Training Links Programme 2020 - 2022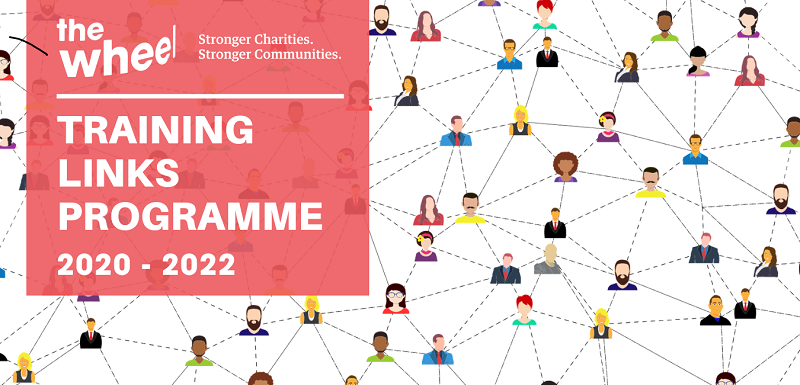 Since 2005 The Wheel's Training Links Programme has had a unique position in Ireland in supporting and promoting training and upskilling of employees, volunteers, board members, and recruits throughout charities, community and voluntary sector organisations and social enterprises - helping to meet needs and requirements in training and upskilling for employment opportunities and related support structures.
Training Links is based on an approach that incentivises organisations to work and collaborate with other organisations (via networks) to identify shared training and support needs – and then to jointly put in place a plan to address them.

Following assessment by an independent panel, we  are delighted to announce that 17 training networks were successful in their application for funding in the 2020 – 2022 Training Links programme. In total, 270 community and voluntary organisations make up the 17 training networks.
Take a closer look at this year's training networks: 
| | |
| --- | --- |
| Network | Lead Organisations |
| Neurological Training Network | Neurological Alliance of Ireland |
| Kerry Community Training Network | Kerry Public Participation Network |
| Upsource Arts Leadership & Capacity Building Network | Dublin Dance Festival |
| Addiction Services Training Network | Aiseiri DAC |
| iCatch (A Training Network for Rivers Trust & Catchment Associations) | Inishowen Rivers Trust |
| Cancer Support Centres and Services Training Network | Irish Cancer Society |
| Training Links National Network for Training of Trainers (Reflective Practice) 2020/21 | The Social and Health Education Project CLG (SHEP) |
| Child Health Training Network | Children in Hospital Ireland |
| Asylum Support Network | Irish Refugee Council |
| Fingal Community Facilities Network | Donabate Portrane Community Centre clg |
| Community Coproduction Network West | Cosain CLG |
| Separation Network | Rainbows Ireland |
| NW Cultural Network | Yeats Society Sligo |
| Comhlámh Code of Good Practice Network | Comhlámh–Development Workers and Volunteers in Global Solidarity CLG |
| Grantmakers and Funders Training Network | Philanthropy Ireland |
| Community Media Training Network | Community Television Association CLG |
| Cork South Training Network | Carrigaline Family Support Centre |
Contents:
What is a Training Network?
A Training Network is a group of independently run and governed community and voluntary sector organisations who decide to come together to co-operate as a group in order to undertake training that they may not be able to do individually.  The term 'community and voluntary' in this instance includes: registered charities, social enterprises, independently run nonprofit organisations that do not have a charity status, incorporated or unincorporated entities.
The Training Network identifies a Network Coordinator

(most likely, but not necessarily, a person associated with the Lead Organisation)

to coordinate network activities and have overall responsibility for the project.
The Lead Organisation is the main applicant for the Training Links funding.  It will have overall responsibility for meeting the Training Links network objectives, coordination of network activities for the member organisations listed in the application document, monitoring of progress and targets, and evaluation of all training delivered.  It also holds accountability for all funding received and all associated reporting to The Wheel.
The Training Network's member organisations share in the decision-making, design and implementation of training (i.e. training developed by the network members for the network members). This is facilitated through the establishment of the Network Committee to oversee the work of the Network and to guide and support the work of the Network Coordinator.
The member organisations of the Training Network must be stand-alone organisations, independently run and governed.  The full network cannot purely be branches of an organisation. A minimum of ten (10) members is required for eligibility.

There is no maximum number of organisations that can be members of a Training Network - however, the network must be a manageable size for the Network Coordinator.

Training Networks

may be from the same town or area (regional); may be involved in similar activities (sub-sectoral); or may all be involved in a specific topic (theme).

Training Networks considered for this programme can be existing networks within the community and voluntary sector or new networks developed to take part in this programme.
Objectives 2020-2022
The objectives of the Training Links Programme 2020 – 2022 are:
To build skills amongst people working in community and voluntary organisations in the following priority areas:


 

Fast-tracking digital transformation across all facets of organisational functioning;

Enhancing the leadership and management skills to increase organisational impact, including strong governance, well-formed strategy, and agile and effective management and planning;

Building skills as a means of responding to the challenge of Brexit;

Developing new business models; new approaches to earning-income and fundraising; and new models for working with statutory funding partners;

Achieving high-quality, impactful, consistent and responsive services (responding especially to ongoing COVID-19 related realities); demonstrating impact, and communicating that effectively;

Upskilling and reskilling to accommodate successfully the changes necessary to ensure safe working environments in a COVID-19 context.


 

To promote and support a cohesive and organisational-led approach to training and learning especially within small and medium organisations, enabling increased awareness of and access to training options through the establishment of Training Networks across the sector.


 

To promote and encourage collaboration within and between networks of members so that ideas, initiatives and best practice in training and development can be identified and shared, resulting in cost-effective and innovative solutions to joint training needs.


 

To facilitate the provision of quality customised training by supporting the development of new, or innovative, or flexible training methodologies, in order to deliver more relevant, effective, efficient and user-friendly training solutions.
More Info
If you would like to know more, or have a question about Training Links, please contact Lauren Carroll on lauren@wheel.ie.
---