Training Links Programme 2020 - 2022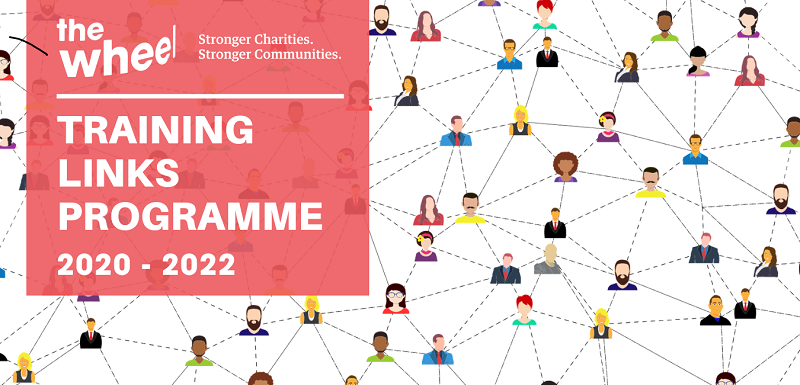 Since 2005 The Wheel's Training Links Programme has had a unique position in Ireland in supporting and promoting training and upskilling of employees, volunteers, board members, and recruits throughout charity, community and voluntary sector organisations and social enterprises - helping to meet needs and requirements in training and upskilling for employment opportunities and related support structures.
As part of The Wheel's strategic objectives and key actions for the 2020-2022 period, continued access for the sector to appropriate training and upskilling opportunities is at the core. Therefore, a new cycle of Training Links funding has just launched to facilitate upskilling of people working in nonprofit sector organisations through collaborations in networks.
Training Links is based on an approach that incentivises organisations to work and collaborate with other organisations (via networks) to identify shared training and support needs – and then to jointly put in place a plan to address them. It facilitates organisations and their staff to decide on their own training needs, and to develop solutions to those needs. Organisations and the Training Networks that they participate in are free to choose the training methods, courses, trainers or priorities that are most relevant to them and have those choices supported to make them happen.  The Training Links Programme, run by The Wheel, will provide funding, facilitation, information and advice to assist organisations to deliver the solutions that they feel are most appropriate to their size, area of activity and employee developmental needs.
Available Funding
The successful Training Networks will be substantially funded by the Training Links Programme (i.e. to a maximum of 80% of total budget costs). The funding covers the development and implementation of strategic, innovative and cost-effective training and development solutions for organisations that work collaboratively through networks, which they would be not be in a position to undertake as effectively on their own. The Training Links Programme is part-funded from the National Training Fund through the Department of Further & Higher Education, Research, Innovation and Science.
In addition to the provision of substantial financial subsidies to the Training Networks - directed at training provision - this programme provides much-needed opportunities for sectoral co-operation and shared learning.
Contents:
What is a Training Network?
A Training Network is a group of independently run and governed community and voluntary sector organisations who decide to come together to co-operate as a group in order to undertake training that they may not be able to do individually.  The term 'community and voluntary' in this instance includes: registered charities, social enterprises, independently run nonprofit organisations that do not have a charity status, incorporated or unincorporated entities.
The Training Network identifies a Network Coordinator

(most likely, but not necessarily, a person associated with the Lead Organisation)

to coordinate network activities and have overall responsibility for the project.
The Lead Organisation is the main applicant for the Training Links funding.  It will have overall responsibility for meeting the Training Links network objectives, coordination of network activities for the member organisations listed in the application document, monitoring of progress and targets, and evaluation of all training delivered.  It also holds accountability for all funding received and all associated reporting to The Wheel.
The Training Network's member organisations share in the decision-making, design and implementation of training (i.e. training developed by the network members for the network members). This is facilitated through the establishment of the Network Committee to oversee the work of the Network and to guide and support the work of the Network Coordinator.
The member organisations of the Training Network must be stand-alone organisations, independently run and governed.  The full network cannot purely be branches of an organisation. A minimum of ten (10) members is required for eligibility.

There is no maximum number of organisations that can be members of a Training Network - however, the network must be a manageable size for the Network Coordinator.

Training Networks

may be from the same town or area (regional); may be involved in similar activities (sub-sectoral); or may all be involved in a specific topic (theme).

Training Networks considered for this programme can be existing networks within the community and voluntary sector or new networks developed to take part in this programme.
Objectives 2020-2022
The objectives of the Training Links Programme 2020 – 2022 are:
To build skills amongst people working in community and voluntary organisations in the following priority areas:


 

Fast-tracking digital transformation across all facets of organisational functioning;

Enhancing the leadership and management skills to increase organisational impact, including strong governance, well-formed strategy, and agile and effective management and planning;

Building skills as a means of responding to the challenge of Brexit;

Developing new business models; new approaches to earning-income and fundraising; and new models for working with statutory funding partners;

Achieving high-quality, impactful, consistent and responsive services (responding especially to ongoing COVID-19 related realities); demonstrating impact, and communicating that effectively;

Upskilling and reskilling to accommodate successfully the changes necessary to ensure safe working environments in a COVID-19 context.


 

To promote and support a cohesive and organisational-led approach to training and learning especially within small and medium organisations, enabling increased awareness of and access to training options through the establishment of Training Networks across the sector.


 

To promote and encourage collaboration within and between networks of members so that ideas, initiatives and best practice in training and development can be identified and shared, resulting in cost-effective and innovative solutions to joint training needs.


 

To facilitate the provision of quality customised training by supporting the development of new, or innovative, or flexible training methodologies, in order to deliver more relevant, effective, efficient and user-friendly training solutions.
2020 - 2022 Timetable
Date

Action

Tuesday, 4 August 2020

 

Application pack available.

Ongoing

Advice, support and guidance is available from The Wheel at all times regarding any element of the Training Links Programme. Contact Bridie Corrigan Matthews at bridie@wheel.ie.

 

Weds, 30 September 2020

APPLICATION CLOSING DATE:

 

Submission of completed application forms by no later than 5pm.  Submissions made to applications@wheel.ie

 

October 2020

Selection of the successful Training Networks.

 

An independent selection panel will select Training Networks. 
 

Fri, 30 October 2020

Successful applications informed.

Fri, 13 November 2020

Final changes/adjustments (if required) to network training plans and budgets.
 

Fri, 20 November 2020

 

Contracts signed, bank details and administrative details received from successful networks.

 

Fri, 27 November 2020

 

First grant payment instalment available.

November 2020 – March 2022

 

 

Training Networks Operational Period: the Training Networks will run the training programmes as set down in the training plan, and will make regular reports to The Wheel.  On-going support in the form of advice, guidance, monitoring (phone and Zoom calls or visits) to the Training Networks, will be available from The Wheel.

First Network Coordinator Meeting via Zoom, Tuesday, 24 November 2020 from 10am – 12pm.

 

Fri, 14 May 2022

Completion of Final Reports: final financial and narrative report, and the network evaluation must be submitted to The Wheel.

 
Application Pack
Email completed applications to applications@wheel.ie by 5pm on Friday, 30 September 2020. Applications received after this date will not be considered.
If you require support with your application, or have a question, please contact bridie@wheel.ie.

---