Champion Changemakers Weekend, 23 Sept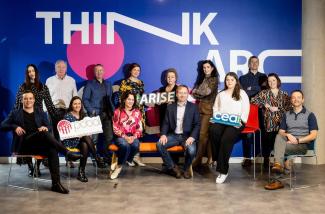 Champion ChangemakersTM is a weekend long 'Dragons Den' type event which will be hosted by members of the Community Enterprise Association Ireland (CEAI) in five different locations across the country from 23 September. The focus of the weekend is to work with local communities in Ireland – individuals or groups – to identify, address and solve social, environmental or economic challenges which exist around them.
Anybody interested in getting involved will find details of the host enterprise centres/hubs on the CEAI website and should sign up here by 21 September to secure their place. The Champion ChangemakersTM Weekend is for everyone. There is no cost to getting involved and no business experience is required - all you need is a passion to support positive change in your community and to improve the lives of others across Ireland. Participation in Champion ChangemakersTM is open to people of all ages, with under-18's requiring a letter of consent from a parent/guardian.
By the end of the weekend, three teams from each of the five enterprise centres/hubs will be shortlisted to participate in a National PitchFest on October 20th hosted by Innovate Communities in Dublin. The shortlisted ideas will be categorised under one of the following themes:
Environment and Climate Action
Economic Inequality
Human Wellbeing.
The outright winner will benefit from a prize bursary of supports with an estimated value of €10,000 to set them on their founder journey towards the establishment of a sustainable, successful and impact-driven social enterprise. This bursary of supports will include legal advice, financial services, mentoring and training and other key learning supports.
This Programme of events is funded under the 2021 ARISE Scheme, with the funding allocation awarded to NACEC CLG as a successful applicant under the Scheme. As a programme of events funded under ARISE, it is recognised and approved by Government with support from the Dormant Accounts Fund. The funding allocated is part of the Dormant Accounts Action Plan 2021 and is administered by the Department of Rural and Community Development in conjunction with Pobal.
 
About The Community Enterprise Association Ireland
The National Association for Community Enterprise Centres (NACEC) CLG t/a The Community Enterprise Association Ireland is the national representative association for community enterprise centres and enterprise hubs across the National Hub Network.
 
FOR FURTHER INFORMATION: siobhan@nacec.ie