Budget 2023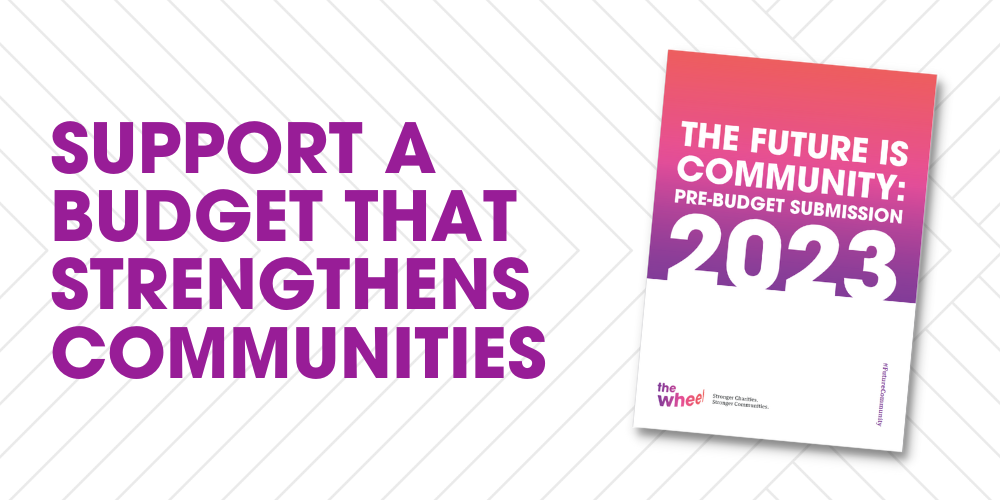 Budget 2023 provides an opportunity to build a future shaped by community; one in which charities, community groups, and social enterprises can efficiently and effectively work with those they serve. #FutureIsCommunity
We made our Pre-Budget Submission to Government earlier this year.  You can read it in full here.
Our  recommendations for Budget 2023  focus on enabling organisations to continue to provide stable, much-needed services in the uncertain economic period ahead. These recommendations include calls on government to:
Increase funding for services and supports provided by community and voluntary organisations to enable them to address the recruitment and retention crisis in the sector.
Mainstream multi-annual funding and ensure adequate funding levels for services generally 
Support fundraising to recover post-COVID-19 through increasing tax and VAT measures to support charities
Provide for the cost of compliance and streamline regulatory and funding-related compliance requirements 
Address the cost of insurance.
Additional measures we are seeking in Budget 2023 include:
Dedicate resources to deliver the three strategies for the community and voluntary sector, social enterprise, and volunteering
Develop and resource from the National Training Fund a comprehensive skills development strategy for the community and voluntary sector workforce
The complete list of recommendations, along with more details and costings, can be found in the full submission linked above.
Take Action Today
We know what can be achieved when our members and the sector speak as a community, so we are asking you to support the campaign by joining us in three actions:
1. Contacting Your Local TDs
Please contact your local TDs and reiterate how important it is that the sector is resourced in Budget 2023 so that the sector can continue to support, advocate and deliver services. You can do so by using the simple email form here. It will only take a few minutes and can have a big impact. 
2 Supporting #FutureIsCommunity on Twitter
Please use the hashtag #FutureIsCommunity over the coming weeks to show your support for the campaign.
Your post can be as simple as, "We support the call for a budget that resources Ireland's charities, community and voluntary groups, and social enterprises. #FutureIsCommunity @The_Wheel_IRL." Here is an image that you can include, too.
3 Attending our Special Budget 2023 Event
We would also like to invite — and strongly encourage — you to attend an in-person Pre-Budget Briefing for charities, community groups, and social enterprises on 15 September at 10am.
The event will include a presentation of The Wheel's priorities for Budget 2023 and a short panel discussion with member organisations on the most pressing issues they face (such as addressing the pay and recruitment and retention crisis in the sector) in the run-up to the Budget.
This will be followed by a photocall outside the gates of Dáil Éireann (attendance optional). We invite all members of the sector to join us in calling for a Budget that supports the work of the community and voluntary sector.
Your voice will go a long way towards making this campaign a success, so we thank you in advance for taking the time to email, tweet, and come along to our events.
If we can be of any support with your organisation's own Budget 2023 campaign, please get in touch at emily@wheel.ie.