Two Irish charities share £20,000 windfall as part of Ecclesiastical's Movement for Good awards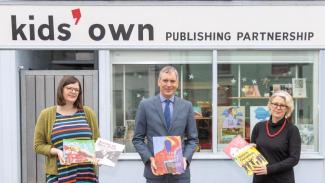 Irish based charities have been announced as two of the charities to receive a combined £1,000,000, and split into amounts of £10,000 (euro equivalent) per charity, as part of Ecclesiastical's Movement for Good awards 2021.
The fund will allow Dublin charity Common Ground, which is an arts development organisation, to kick-start its new project. The grant will support the rejuvenation of a local park, and will provide access to a mix of technical and artistic expertise and horticultural materials that will support greening initiatives.
Sligo based Kids' Own will also receive a £10,000 grant. The children's arts organisation and publishing house is Ireland's only dedicated publisher of books by children for children. Through its books, exhibitions, and other published outputs, the charity strives to ensure that children are listened to and heard by society in a variety of ways.
Each of the £10,000 awards is designed to help charities make a real difference in their communities. Applications were assessed against four key areas: impact and effectiveness, sustainability, innovation, and care and compassion.
Siobhán Geoghegan, Director at Common Ground, said: "We were absolutely thrilled to hear we were one of the winners of the Movement for Good Awards. Winning this £10,000 makes a huge difference to our work locally.
"The grant has come at a perfect time as we move gradually out of this difficult period impacted by Covid 19. These resources will help us support and empower local people to create greener neighbourhoods through creative greening initiatives."
Jo Holmwood, Creative Director of Kids' Own, said: "We are delighted to receive £10,000 from the Movement for Good Awards. We want to ensure that all children and young people have the opportunity to represent themselves and their identities in a creative, positive way.
"This grant will enable Kids' Own to work with St Cecilia's school in Sligo on a new book project to ensure that children and young people with learning disabilities have a positive means of creative expression.
"We hope this book publication will provide a positive, public, and highly visible platform for the voices and creative expressions of the students to be heard in our community".
David Lane, Managing Director of Ecclesiastical Ireland, said: "At Ecclesiastical we believe business should be a force for good. Charitable causes need sustained support and a sense of financial stability. Through the second phase of our Movement for Good awards, we are actively championing innovation, giving charities the backing they need to propel their plans forward and turn creative ideas into practical solutions that benefit society.
"To be able to help Common Ground progress the development of local greening initiative in Dublin and also help Kids' Own complete its book project and ensure meaningful creativity is a part of all young people's lives, is simply fantastic for the entire team here in Ecclesiastical."
For the third year running, the awards, set up by specialist insurer Ecclesiastical, will see a total of £1million go to charities across the UK and Ireland. Earlier this year, twenty charities based in Ireland were awarded £1,000 each as part of the Movement for Good awards during its first phase.
Phase two saw over 1,000 project submissions for the £10,000 awards. Following a review of all the applications, a panel of judges made their final selection of the 30 winning projects. The remaining money will be awarded at a later date.                                                                                                                          
For more information about the Movement for Good awards and for a full list of the winning charities, visit: www.movementforgood.com
Full list of 30 winning charities: