Teaching about the EU: European Studies in Ireland - 30 Nov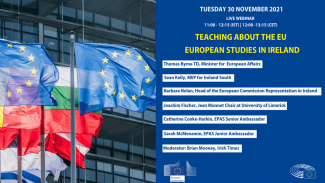 The European Commission Representation and the European Parliament Liaison Office in Ireland are delighted to invite you to a special online event on 'Teaching about the EU: European Studies in Ireland', on 30 November 2021 at 11am, that will present and discuss the state of play of European studies in Ireland. 
Join Minister Thomas Byrne, Sean Kelly MEP and a stellar panel of experts and practitioners to debate the need for a stronger focus on teaching about the EU and languages from primary to third level education in Ireland. 
The event will: 
discuss the state of play of European Studies and teaching about the EU in Ireland, and the important role it plays for civil education, helping young people play a full role as active citizens;
consider what could be done to expand the offer of European Studies at all levels in Ireland;
look at the impact of the European Parliament Ambassador School and the Blue Star programmes and other relevant initiatives;
sketch the terrain and harvest ideas and questions to feed into an international symposium on European Studies being organised by the University of Limerick in May 2022.
Speakers:
Thomas Byrne - Minister for European Affairs 
Sean Kelly - MEP for Ireland South
Barbara Nolan - Head of the European Commission Representation in Ireland
Dr Joachim Fischer - Jean Monnet Chair in European Cultural Studies and Director of the Centre for European Studies at UL 
Catherine Cooke-Harkin - EPAS Senior Ambassador & Sarah McMenamin  EPAS Junior Ambassador, St Columba's College, Stranorlar, Co. Donegal 
Moderator: Brian Mooney - Irish Times education columnist and career guidance counsellor.
Participants can comment and ask questions via a LIVE chat. We kindly ask you to confirm your participation by registering for this webinar via this link.