Student Global Health Debate, 23 Jan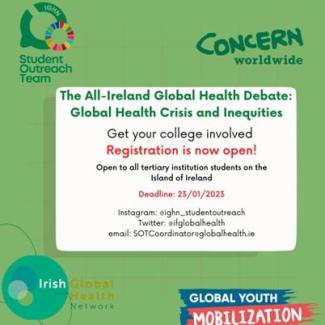 The Irish Global Health Network Student Outreach Team has partnered with CONCERN and the Global Youth Mobilization to prepare an all-Ireland global health debate open to all tertiary institution students. Students in groups of four will be able to enroll until 3 February and the first round of the debate will take place in February.
The theme chosen, "global health crisis and inequities", will bring students from all over the country to discuss one of the most pressing issues in actuality, using creative and critical thinking to debate in teams.