STAND Global Issues Mini Course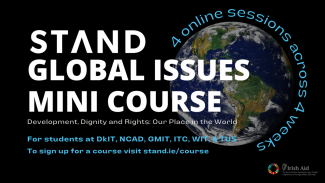 Time: 2 hours per week for 4 weeks
Date: Various dates and deadlines: see more info here
Location: Online via Zoom
Cost: 10 euro
A bit more about the course:
We all want to live in a fairer and more just society, but when the world's eight richest people control the same wealth between them as the poorest half of the world's population, it can be hard to know where to start to tackle inequality. 
These interactive evenings will deepen understanding of issues related to development and globalisation, introduce participants to like-minded, passionate peers, and ultimately help them to understand themselves and their role in bringing about change.
In addition to the Global Issues courses running in the Spring, STAND also offers Global Issues mini-courses in the Autumn, comprising four online evening sessions over four weeks. We welcome students from all disciplines to apply and no prior knowledge of development issues is needed. The mini-course costs just €10 thanks to the support of Irish Aid. Places are limited to 30 per course and are allocated on a first-come, first-serve basis. 
Upon completion of the mini-course, participants will receive a Certificate of Completion from STAND. Our sessions are workshop-style and include plenty of interactive discussions, debates and group work. 
Each week students will cover one topic, and learn how to take action on it.
Week 1: Human Development

Week 2: Human Rights

Week 3: Human Dignity

Week 4: Where to from here?
Full details on the course are available here.
Or students can register for the course here.