SERVE supports Young Entrepreneurs in Mozambique and Zimbabwe
SERVE is buzzing with campaigning and planning!
Our Active 30 fundraising campaign is getting a lot of support from people all over Ireland. Please help our campaigners raise €3,000 to cover the operational costs of the Entrepreneurship Hub, which is one of the highlights of the SERVE Skills for Youth Resilience Programme 2021-2024 in collaboration with Young Africa.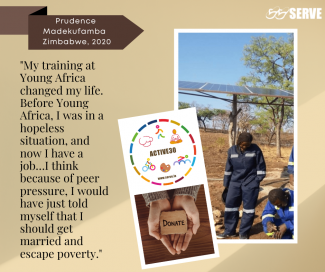 We're also very excited this week because preparations for Cork Culture Night 2021 are well underway. Our Global Goals Trail & Sustainable Youth Village will be launched in Scala, Castle Road, Blackrock, Cork. 
Together with Leargas and the EU, SERVE is proud to support this project, which is funded by European Solidarity Corps. For more information on joining us for our launch or visiting our SDG/ Global Goals trail please email nollaig@serve.ie. ALL WELCOME!