Remaining Horizon 2020 Opportunities under Energy, Transport and Climate - Cork, 12 Nov
Enterprise Ireland will be hosting an event on Tuesday, 12 November, in Lewis Glucksman Gallery, University College Cork, focussing on the Remaining Horizon 2020 opportunities under Energy, Transport and Climate.
This event will bring together innovators, researchers, public authorities and companies active across converging disciplines covering low-carbon technologies, climate resilience and the circular economy. This will be a unique opportunity to develop new research partnerships, explore cross-cutting opportunities and get insights from Horizon 2020 experts across each of these areas. BOOK YOUR PLACE HERE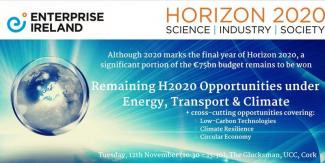 About this Event
This event will promote Horizon 2020 opportunities still available to Irish researchers and other programme participants under:
Societal Challenges 3 - Secure, Clean and Efficient Energy
Societal Challenges 4 - Smart, Green and Integrated Transport
Societal Challenges 5 - Climate Action, Environment, Resource Efficiency and Raw Materials
The event will also consider opportunities under the cross-cutting Calls:
Building a low-carbon, climate resilient future: Next Generation Batteries
Competitive, Low Carbon and Circular Industries
Relevant opportunities for Ireland under the Bioeconomy will also be discussed.
Attendees will have an opportunity to:
Gather information on forthcoming 2020 SC3, SC4 and SC5 topics
Hear about current low-carbon, climate resilience and circular economy research initiatives
Discuss and refine your project ideas with potential partners, and 6 NCPs covering these areas
Join consortia forming around forthcoming 2020 topics.