Invite: Exploring Scientific Evidence & Science in the Media - 19 Aug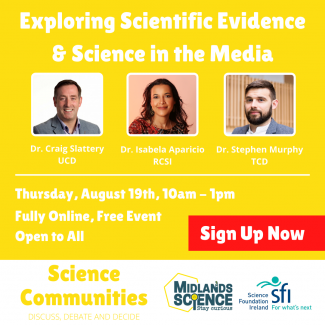 You are invited to the first of Midlands Science FREE Online Public Forums next week, exploring Scientific Evidence and Science in the Media.
This event is the first in a four part series of public forums exploring a range of topics including science, medicine, health, vaccines, food and alcohol.
Our first forum will feature:
Dr. Craig Slattery (UCD)
Dr. Isabela Aparicio (RCSI)
Dr. Stephen Murphy (TCD)
They will be discussing scientific evidence, science in the media, misinformation and conspiracy theories. This is your chance to discuss these issues and have your voice heard.
Click here to register or email outreach@midlandsscience.ie for more information.