Invitation: Planning for Your Workforce Post-COVID-19 by A&L Goodbody, 13 May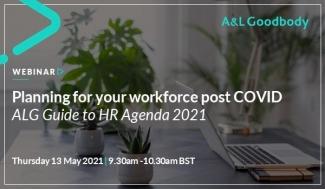 2021 looks set to be a bumper year of developments on the employment law front.
Join A&L Goodbody on Thursday 13 May at 9:30am for this webinar, where we will discuss the main developments that HR teams need to be aware of and provide practical advice on the steps that can be taken now to respond to these developments. 
A&L Goodbody's Employment Practice Group will cover the following topics: 
The "Right to Disconnect" – what does the Code of Practice mean in practice for your organisation? 
COVID-19 related employment litigation – key cases to date and horizon scanning 
Vaccinations – the rollout and its impact on the workplace  
The EU Whistleblowing Directive – key changes and practical implications.
Advance questions on the topic are welcome so please do feel free to send them through to A&L Goodbody Pro Bono Associate Eithne Lynch at elynch@algoodbody.com. 
We hope you can attend our virtual event. Please RSVP using the below button by Friday 7 May.