Invitation: Our Lives, Our Voices: Reclaiming the Narrative - 1 Dec
Our Lives, Our Voices: Reclaiming the Narrative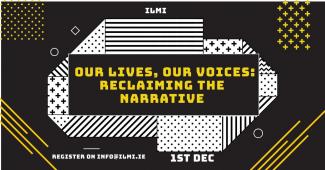 The representation of disabled people's lives in the Media
Tuesday 1 December 7:30 to 9pm Save the Date
The media plays a crucial role in shaping discussions in relation to disability. This seminar is looking to create a discussion with disabled activists to collectively look at how disability is discussed, narratives that are used and the impact of stories and language used that real impacts on disabled people's lives.
The aim of the meeting will be to develop a strong collective voice representing disabled people to shape the narrative of how media engages with disability and disabled people. If you would like to be part of this exciting online event register now and reply to this mail.
Agenda and details including our exciting panellist line-up will be sent out in due course. Watch this space !