Governance Ireland: An evolving landscape, 10 May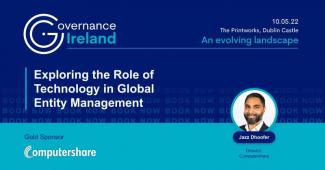 Where 2021 was the time for boards to think and act more dynamically and innovatively and look at what's on their agenda to create a sustainable future, 2022 is the time for boards and their organisations to focus on key issues which are making significant impact on how organisations operate.
We are delighted to announce that this event will be in-person, a great chance to catch up and network with your peers and colleagues. This event is about the evolution of governance. Below, are just a few of the many topics being discussed that make this event a must attend.
Find out ways to close the gender pay gap, and how to put a good report together on it
Learn techniques to disconnect from your home life while in work
Hear more about the Senior Executive Accountability Regime
Learn more about the impact of ESG shareholder activism can have on your business
Understand more about the benefits of AI, and whether your board is ready to embrace it 
Make a substantial contribution to your professional development with 6 hours of CPD.