The EU's Economic recovery and resilience: the role of the European Parliament - 14 Oct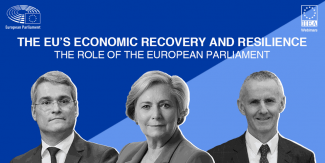 You are invited to a webinar panel discussion, co-organised with the Institute of International and European Affairs (IIEA), entitled: The EU's Economic Recovery and Resilience: The Role of the European Parliament. This event will take place on Thursday, 14 October from 1.00pm – 2.00pm via the Zoom platform.
This event is the first in a series co-organised with the European Parliament Liaison Office in Dublin ahead of the European Citizens' Panel, which will be hosted by the IIEA in Dublin Castle on 3-5 December 2021, as part of the Conference on the Future of Europe.
On Friday, 16 July 2021, the President of the European Commission, Ursula von der Leyen visited Ireland to announce the approval of almost €1 billion in funding to finance Ireland's COVID-19 recovery. This funding is drawn from NextGenerationEU, the EU's €800 billion recovery fund jointly negotiated by the Member States and the European Parliament as co-legislators, which aims to support a sustainable, equitable recovery across the EU as well as advance the green and digital transitions over the coming decades.
 
The IIEA and the European Parliament Liaison Office in Ireland will host a webinar panel discussion to discuss these developments, with particular emphasis on the role of the European Parliament in shaping the EU and Ireland's economic recovery and resilience.
Panellists will include:
Frances Fitzgerald MEP (EPP)
Ciarán Cuffe MEP (Greens)
Dragoș Pîslaru MEP (Renew Europe) - co-rapporteur on the Recovery and Resilience Facility
The panel will be moderated by Professor Alan Barrett, CEO of the Economic and Social Research Institute (ESRI).
To register for this event, please follow this Zoom link and enter your details: 
https://iiea.zoom.us/webinar/register/WN_033RHfQARn-6SwclnDhtBQ