Empowerment Course for Women beginning in April
Empower yourself in your everyday life
Clare Women's Network popular course, Empower Yourself in Your Everyday Life is returning. This free online programme will run once a week for 1.5 hours for six weeks, with sessions taking place both in the morning and evening time.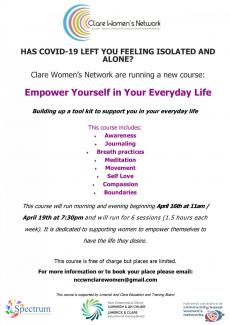 Empower Yourself in Your Everyday Life will allow you to build up a tool kit to support you in your everyday life. Topics covered in the course will include:
Awareness
Journaling
Breath practices
Meditation
Movement
Self Love
Compassion
Boundaries.
This course will be facilitated by a qualified and experienced Counsellor and Psychotherapist, Bridget Haren. Empower Yourself in Your Everyday Life is dedicated to supporting women to empower themselves to have the life they desire.
The morning sessions begin on Friday, April 16th at 11am and the evening sessions begin on Monday, April 19 at 7:30pm. Places for this course are limited and must be booked in advance. If you would like to book your place, please let us know your preferred session time and contact us at: nccwnclarewomen@gmail.com
Supported by Limerick and Clare Education and Training Board.