Conversations on COVID-19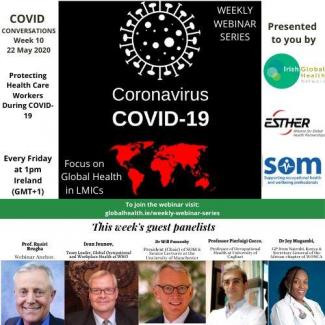 Conversations on COVID-19 – Week Ten: Protecting Health Care Workers During the COVID-19 Pandemic
Time: Fridays at 1pm Irish/UK Time (12pm GMT)
This week's webinar is co-hosted by the Society of Occupational Medicine (SOM). 
This webinar focuses on the challenges for professionals implementing occupational health in health care settings, and how to support healthcare workers in resource poor settings. Speakers from Kenya, Italy and the United Kingdom will be invited to address:      
-the WHO's occupational health strategy for health care workers.
-strategies for addressing key issues such as using the hierarchy of controls to protect health care workers, including the effective use of PPE.      
-knowledge and evidence gaps for protecting health care workers in low resource settings.  
THIS WEEK'S SPEAKERS
Panelists: 
Dr. Ivan Ivanov: Team Leader, Global Occupational and Workplace Health Team in the Headquarters of the WHO, Geneva - Currently serves as occupational health officer in the COVID-19 response team of WHO's Global Emergencies Programme.  
Dr. Will Ponsonby: President (Chair) Society of Occupational  Medicine - Senior Lecturer in Occupational Medicine for the MSc in Occupational Medicine, University of Manchester.  
Professor Pierluigi Cocco: Professor of Occupational Medicine at the University of Cagliari - Long-standing collaboration with the Occupational and Environmental Epidemiology Branch of the U.S. National Cancer Institute.. Member of the Modernet Consortium of the EU Occupational Health centres.. Member of the Planetary Protection Working Group of the European Space Agency.  
Dr Joy Mugambi: General Practitioner, Nairobi, Kenya has been involved in WHO's work on the occupational health of health workers. Secretary General of the African chapter of the World Fédération of Family Doctors (Wonca). 
Webinar Anchor: Ruairi Brugha,  Professor Emeritus, Former Head of the Department of Public Health & Epidemiology at the Royal College of Surgeons in Ireland 
Moderators:  Nadine Ferris France, Executive Director, Irish Global Health Network & Hala Ali, ESTHER Alliance Coordinator 
To find information and recordings of our previous 9 webinars, click here: https://globalhealth.ie/events/past-weekly-webinars/