Campaign Launch: People's Vaccine Alliance Ireland, 8 July
Campaign Launch: People's Vaccine Alliance Ireland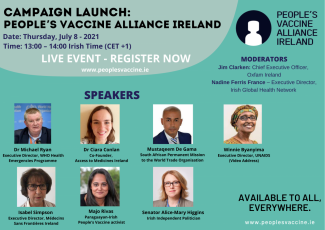 Date: Thursday, July 8 2021
Time: 1 – 2 pm Irish Time
Register Here: https://us02web.zoom.us/webinar/register/WN_HxYiidujSHWAKkzPLUkLfw
Sign Petition Here: https://peoplesvaccine.ie/#petition
The fairest and most effective way to end the COVID-19 pandemic is to ensure that everyone, everywhere has access to COVID-19 vaccines, tests and treatments. But pharmaceutical company monopolies could leave countries in the global south waiting until 2023 for widespread vaccination.
This event marks the launch of a national campaign by the People's Vaccine Alliance Ireland—a coalition of Irish organisations, health practitioners, trade unions and activists who have come together to call on the Irish government to take a stand for fairness, equality and global health.
Join us to discuss the issues with Irish and international speakers campaigning for vaccine equity worldwide.
Speakers include:
Dr Michael Ryan, Executive Director, WHO Health Emergencies Programme
Dr Ciara Conlan, Co Founder of Access to Medicines Ireland
Mustaqeem De Gama, South African Permanent Mission to the World Trade Organisation in relatioin to the TRIPS waiver
Majo Rivas, Paraguayan-Irish People's Vaccine activist
Senator Alice-Mary Higgins, Irish Independent Politician
Isabel Simpson, Executive Director, Médecins Sans Frontières Ireland
Winnie Byanyima, Executive Director, UNAIDS.