Art Connects - At Home with Smashing Times - 3Apr
Watch Tell Them Our Names, a film directed by Mary Moynihan, via live stream on Friday 3 April, 7.30pm, followed by discussion with special guests Clodagh Finn, author of A Time to Risk All, the incredible untold story of Mary Elmes, the Irish woman who saved children from Nazi concentration camps and Mary Moynihan, writer, theatre and film-maker and Artistic Director, Smashing Times. Our theme is women's stories of WWII with a focus on inspiring stories of women handling adversity in difficult times in the past and today.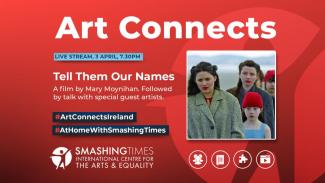 Tell Them Our Names film screening and post-screening talk
When: Friday 3 April, 7.30pm. Where: Smashing Times Online Centre for the Arts and Equality
Email your questions and comments to productions@smashingtimes.ie
Part of a new Smashing Times online series of curated arts content, newsletters and online events including creative art showcases every Friday in April, on 3, 10, and 17 April 2020 at 7.30pm.