Summit 2022: The Wheel and 2into3 Announce Three-Year Partnership
The countdown has begun to Summit 2022, this year's largest gathering for charities, community organisations and social enterprises (1 June, Croke Park). Over the next few days, we will be making several big announcements, including the full conference programme, and the identity of our high-profile keynote speaker.
New Partnership with 2into3
We are proud to announce that 2into3 will be supporting our annual Summit as Lead Partner for the next three years.
Commenting on the announcement, Dennis O'Connor, CEO of 2into3 said: "We are delighted to partner with The Wheel for the next three Summit annual events. By bringing together the sector to discuss key topics and facilitating solution-based discussions, The Wheel's Summit is critical in shaping the future of the sector. Here at 2into3, we understand how important a strong third sector is for society in Ireland. We work with our clients to build the capacity of their organisations so that they can have a transformative social impact."
Deirdre Garvey, CEO of The Wheel added: "2into3's deep knowledge of the sector and extensive experience will further enhance The Summit. We look forward to working with them to develop the Summit as a world-class event".
What to Expect at Summit 2022
Join us at Summit 2022 to reconnect, re-energise, and forge the path ahead for our sector. You can look forward to:
15 top speakers

Debates, in-depth discussions and inspiration galore

Practical training sessions in HR, Governance, Fundraising and EU funding.

Over 30 exhibitors

Invaluable networking opportunities to help you reconnect

A celebration of our sector's impact
Early Bird Offer
Register by 30 April and get two tickets for the price of one! This offer is expiring soon, so hurry and register today.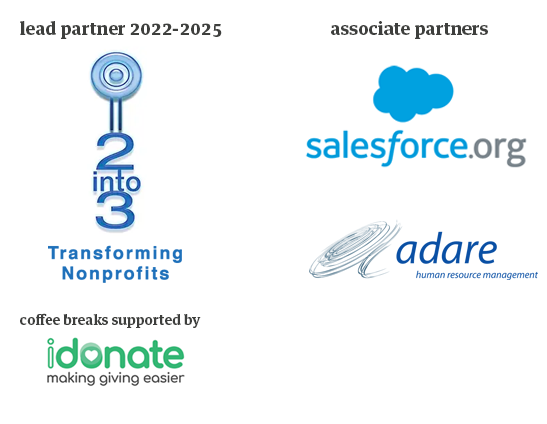 Topics