First Meet and Code Grants Awarded Across Europe — Apply Now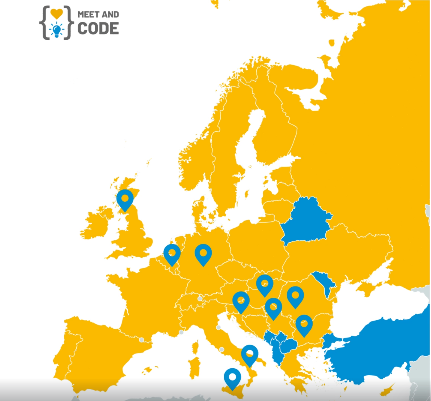 The first Meet and Code grants are being allocated across Europe — let's add Ireland's pin to the map next!
Meet and Code fund events that teach digital and coding skills to young people aged 8–24, and we at The Wheel are proud to be their Irish partner again in 2020. We have 15 €500 grants to offer this year, and we're encouraging Irish charities to submit their ideas for online events.
These events can take place any time during September or October 2020. Grants can be used to purchase software licences, pay for facilitators, help to promote the events, and more. The only limit is your imagination! If you're not sure what kind of event you want to run, take a look at some past Meet and Code events for inspiration.
Grants are allocated on a rolling basis, so charities are encouraged to register and apply ASAP. 
Who can enter?  
Meet and Code is open to registered charities located in the Republic of Ireland. The planned events must take place between 1 September and 31 October 2020. Events must be free of charge with at least 20 children and/or young people aged between 8 and 24 in attendance.   
How to enter?  
Entering is very easy just visit www.meet-and-code.org/ie/ie and follow these five steps.  
Enter your planned event.  
Wait for your application to be reviewed. 
Receive you grant if successful. 
Host your event.  
Charitable organisations that carry out a funded event through Meet and Code are eligible to participate in the Meet and Code Awards. Find out more here.  
Submissions are now open via the Meet and Code website and will close on 9 September 2020.  
Read the full details and register here. 
The Wheel is proud to be Meet and Code's partner organisation in Ireland. 
Topics