In Q4 2019 Senior Recruitment Activity in the Irish Nonpofit Sector Continued to Rise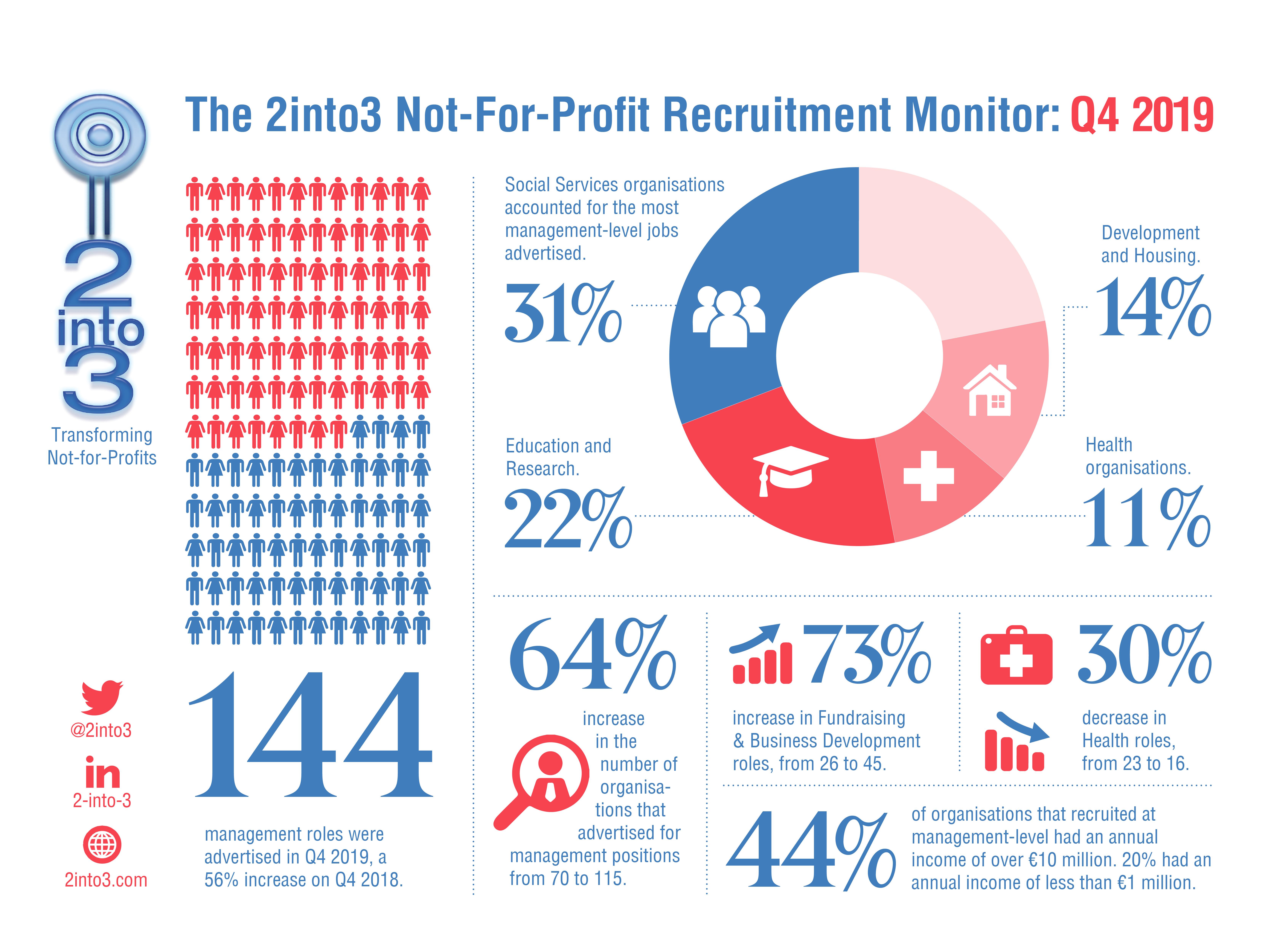 2into3 have released the latest quarterly review of senior recruitment activity in the Irish not-for-profit sector. The 2into3 Recruitment Monitor takes a snapshot every three months of what is happening at the mid to senior range of roles being advertised, allowing those working in the sector better understand the market movements
In the final quarterly review of senior not-for-profit recruitment of 2019, the upward trend identified in quarters 1 to 3 continued, with a 56% increase in roles advertised versus the same period in 2018 (144, up from 92).
Other key highlights from this quarter's Recruitment Monitor indicate:
The number of organisations recruiting also rose significantly year-on-year, up 45 (64%) from 70 to 115.

The most popular roles/ functions advertised were service delivery/operational management and fundraising/business development, representing 32% and 31% of all roles respectively.

In terms of the various sub-sectors, social services (31%) and education and research (22%) were the most active, followed by development and housing (14%) and health (11%). Two sub-sectors (environment and recreation/sport) however were absent from the advertised senior roles that we tracked.

Salary details were included in just 37% of the positions advertised, and within this the majority (57%) included a range. Roles were advertised for an average of 18 days and while 44% of organisations recruiting had annual income levels over €10M, 20% had incomes below €1M.
Full details of all our findings, both for Q4 and the full year 2019 are available, if you would be interested in finding out more, please contact Fergal O'Sullivan, Head of Recruitment: (01) 234 3165.
ABOUT THE 2INTO3 QUARTERLY RECRUITMENT MONITOR
The 2into3 Not-for-Profit Quarterly Recruitment Monitor is a benchmarking resource that provides CEOs, hiring managers and board members in the not-for-profit sector with detailed insights on key trends within the current recruitment market. The Monitor is part of the 2into3's commitment to help mission-driven organisations build capacity. It is developed by 2into3's Recruitment Team; every week we track all management-level roles advertised on behalf of the sector, through continuous review of the most common media platforms used by the not-for-profit sector in Ireland.
Topics