The Digital Future of Irish Nonprofits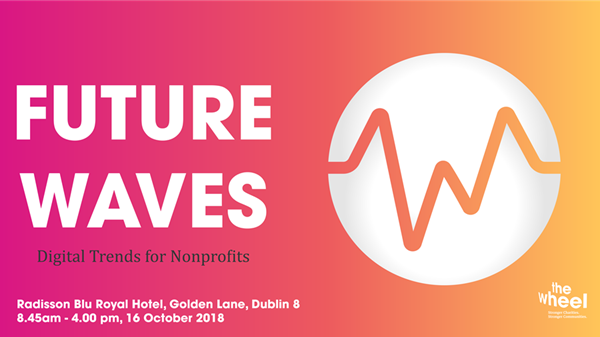 Successful organisations today are those that best adapt and respond to rapid change, and it is in the digital realm that we are seeing the most disruptive transformation to our personal, social, organisational and economic lives. The digital world is built on wave upon wave of change. And yet this provides as many challenges as possibilities: interfaces are becoming faster, smaller and automated; we have been given powerful digital tools for business but sometimes struggle to keep up with the possibilities and repercussions; the public's engagement with digital platforms can be fickle.
In order to grab attention for our causes and harness the potential for development into the future, nonprofit organisations will need to adapt to the kind of supercharged, responsive and immersive digital environments now possible.
This is where Future Waves comes in - on the 16 October join us for a full-day of international speakers, experts on communications, fundraising and tech from across the sector and beyond, engaging panel discussions, inspiring case-studies and a thought-provoking keynote address. Hear from a broad range of speakers across the day:
Denisa Casement (International Fundraising Consultant)
Niall Dennehy (Aidtech)
Jean O'Brien (Digital Charity Lab)
Daragh Doyle (Foodcloud)
Sarah Clarkin (National Women's Council of Ireland)
Joan Mulvihill (Irish Centre for Cloud Computing at DCU)
Eamon Stack (Enclude)
Ken Tormey (Typetec)
Graham Lynch (Irish Cancer Society)
Emily Duffy (Uplift)
Ian Bowell (Microsoft)
Jim Breen (Pulse Learning)
Ian Power (Spunout)
From the future of emerging fields such as blockchain and artificial intelligence to the impact of digital on traditional fundraising, from building online communities to powering tech transformation in your organisation, our speakers will point you towards where nonprofits are today and where they need to be looking tomorrow. 
Future Waves is a unique event specially put together by The Wheel not only to to provoke, inform and inspire but, above all, to provide actionable insights for community and voluntary organisations, charities and social enterprises to respond to the rapidly evolving digital world.
Future Waves is supported by Salesforce.org, The Glass Wall , m-Hance and Typetec