Charity Impact Awards 2018: Nominations Now Open
The Wheel, Ireland's national association of charities, is calling on all of Ireland's community and voluntary groups, charities and social enterprises to share their success stories by entering the 2018 Charity Impact Awards.
Now in its second year, the Charity Impact Awards highlight the positive impact of Ireland's 29,000 nonprofit organisations and celebrate the 189,000 staff and over 1 million volunteers who make a difference in our communities.
Speaking ahead of the launch of the Awards in Dublin, Deirdre Garvey, Chief Executive Officer of The Wheel said, "The Charity Impact Awards is a celebration of the most inspiring organisations and individuals in Ireland. Community and voluntary organisations, charities and social enterprises provide essential services in areas such as health and social care, education, housing, poverty relief, the arts and sport. These organisations are vital to our democracy as they give people a voice and enables them to take control of their lives. Unfortunately, this contribution is all too often taken for granted.  We aim to change this by giving organisations and individuals a chance to share their success stories. "
The Wheel received an overwhelming response last year, with over 118 organisations nominated for the inaugural Charity Impact Awards and over 30,000 votes cast for those who do amazing and life-changing work in their communities.
"The inspiring stories we receive never fail to remind me why we do what we do. I have no doubt there are huge numbers of organisations who are carrying out vital work across the sector and would urge them to take the time to apply to give their organisations, and everyone involved the recognition they deserve," said Ms Garvey.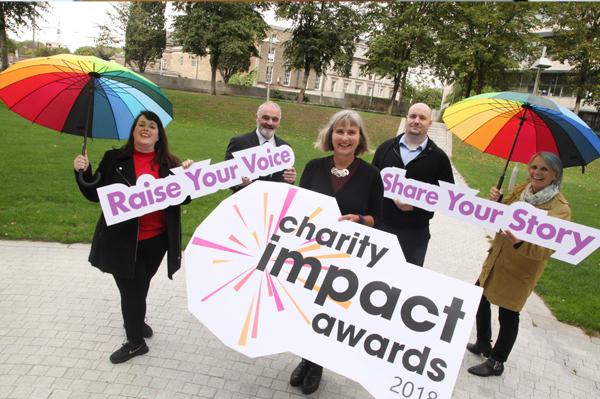 New Social Enterprise Award Announced
A new category has been added to this year's Charity Impact Awards to celebrate the impact of Ireland's growing number of social enterprises.
Social enterprises are social-mission focused organisations that engage in trading activity in a way to achieve their social mission, or to generate a contribution to the cost of delivering their mission. Any trading income or surplus they generate is reinvested in the enterprise and not distributed to directors or shareholders.
"Social enterprises are creating jobs and helping to drive innovation while tackling some of the most challenging social issues in our communities. This award will help to shine a light on this vital area of growth in the nonprofit sector," said Ms Garvey.
Nominations for the Charity Impact awards can be now be submitted online at www.charityimpactawards.ie in the following categories
Charity Impact of the Year (subcategories for small, medium-sized and large organisations)
Trustee of the Year
Social Enterprise of the Year  The public will have an opportunity to vote for their favourite impact stories between 12 November and 3 December and the winners will be announced at the Charity Impact Awards ceremony on 11 December 2018 at the Mansion House in Dublin.
Topics