Applications Open For the 50th Macquarie Group Anniversary Award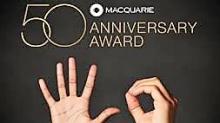 It is expected to be awarded to five organisations globally ($A10 million each) over a five-year period, to fund projects that will have a lasting community benefit.
This new global award seeks to initiate or build on bold ideas that address an area of social need. Nonprofits are encouraged to be more imaginative in their thinking about the enduring outcomes they can achieve with this funding.
Visit the website for more information. Applications will close on Friday 16 November 2018.
Topics