Inaugural NRN Biodiversity Farmer of the Year announced
The National Rural Network Biodiversity Farmer of the Year Award recognises a farmer who is farming in a sustainable manner by encouraging biodiversity and protecting the environment.
Raymond was chosen as the winner for his "unwavering enthusiasm for protecting the environment", according to the NRN.
He farms tough terrain close to the coastline in Co. Mayo, where – working with other farmers – he part farms some 59ha of commonage, as well as 45 breeding ewes and their followers on an additional 24ac – half of which is low-input permanent pasture and traditional hay meadow, actions in the GLAS scheme.
The judges were very impressed by his limited amount of dosing and antibiotics use. Raymond has also expressed a keen interest in beekeeping and he is taking steps to establish hives on his land by next spring.
Commenting on the announcement, Raymond said: "Ireland's native wildlife is under threat and sustainable farming methods are essential to protecting and enhancing the declining biodiversity in rural areas.
Congratulating Raymond, Philip Farrelly of the National Rural Network also spoke.
He said: "Throughout the semi-finals and final rounds the National Rural Network has been engaging with farmers who have expressed a passion – not only about farming but also for sustainability and biodiversity in their farming practices.
"When we visited some of these farms, we saw wonderful examples of what it is to farm in tandem with the environment.
"In the end, Raymond was chosen as the National Rural Network Biodiversity Farmer of the Year for his deep commitment to and enthusiasm for sustainable farming."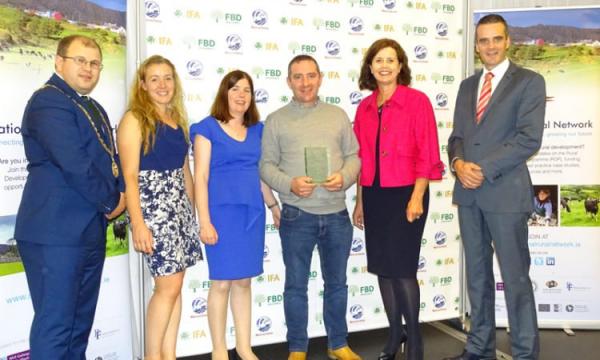 L-R: James Healy, president of Macra na Feirme; Aoife Smith, National Rural Network; Freda Sally, National Rural Network; winner Raymond Langan; Fiona Muldoon, CEO of FBD Insurance; and Joe Healy, president of the IFA
Topics