WEEE Ireland donates €40,000 to LauraLynn
WEEE Ireland is donating a generous €40,000 to LauraLynn in 2021 as it marks 10 years of its charity partnership with Ireland's only children's hospice.
The donation, part of WEEE Ireland's Battery Directive, will provide much-needed overnight respite stays for dozens of children and their families this year as they navigate the added threats brought by COVID-19.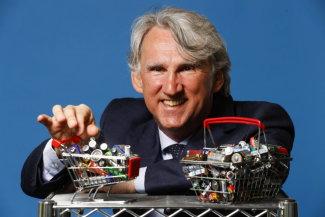 It brings to €480,000 the total amount WEEE Ireland has donated to LauraLynn since the partnership started - the equivalent of 23 overnight stays for children and their families every single year.
"Congratulations to our partner WEEE Ireland on the success of its battery recycling campaign and the fantastic outcome achieved in 2020, despite the huge challenges that the year brought for all of us. This is a very special campaign that we are honoured to have been involved in for the last 10 years," said Bevan Ritchie, interim CEO of LauraLynn as he accepted the €40,000 donation on behalf of the charity.
"The funds that we have received from WEEE Ireland as a result of the campaign have had such a positive impact on the children and families who need LauraLynn. The campaign also helps to raise awareness of our services and our ongoing need for support and donations as Ireland's only children's hospice. 
The equivalent of 21 million AA batteries were recycled by householders in 2020 through retailers and civic amenity sites – an average of four for everyone in Ireland.
Almost six million of these were recycled through five supermarkets as more people used their grocery shop to do their bit for the planet.
WEEE Ireland collected half of the huge haul from Aldi stores, which led the charge on 3.2million, double that of its German rival Lidl on 1.6million.
The e-waste recycling scheme also picked up 850,000 used batteries from Tesco and 224,000 from SuperValu, while Dunnes Stores prevented over 97,000 ending up in landfill.
Irish people can continue to support the fantastic work done by LauraLynn and help the environment by bringing their batteries to any of the thousands of recycling locations around the country.
Despite the encouraging data, for every 10 AA batteries sold on the market, only four are returned for recycling, with 20% in a recent survey admitting to dumping used batteries in general waste bins.
WEEE Ireland is the country's largest e-waste recycling scheme, representing most of the Irish battery industry and household, electrical and electronic industry, which has a producer responsibility to organise and finance the environmental management of their products at end of life.