Virtual Migrant Job Fair 2021, 17 Nov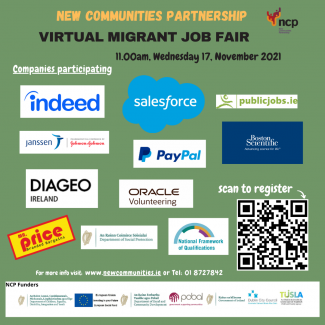 Migrant Women-Opportunities for Work invites you to one of our most exciting events of the year, our annual JOB FAIR! This event is specially organized to cater to the needs and specific queries of migrants in Ireland.
Through this Virtual Job Fair, our aim is to give you all real time exposure to competitive companies and organizations in the job market as you navigate through the Irish workforce.
As job fairs do, we hope you get more insight on what companies are looking for, and that you get a close chance to know what the current state of the job market is.
Mark your calendars for 17 November via Zoom at 11am
Register here - https://bit.ly/3pDj5M7
On the agenda, we will be honored with the Speech of Minister for Children, Equality, Disability, Integration and Youth - Roderic O'Gorman
The first half we will have some amazing organisations speak about their recruiting process, best practices and what can we expect from organisations, (check out the exciting lineup on the poster below)
In the second half we will have two short workshops; one on the different stamps/visas and on social welfare entitlements for migrants.