UN Day for the Eradication of Poverty - 17 Oct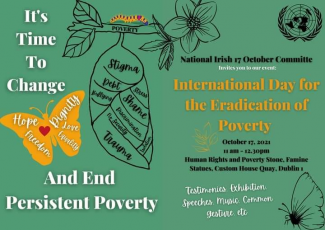 National Booklet and invitation for the Dublin event - 11am on 17 October at the Poverty Stone
On 17 of October each year, we come together to demonstrate the strong bonds of solidarity between people living in poverty and people from all walks of life, and our commitment to work together to overcome extreme poverty and abuse of human rights through our individual and shared commitments and action. 
The International Day for the Eradication of Poverty intends to promote dialogue and understanding between people living in poverty and their communities, and society at large. All around the world, people from different backgrounds come together to participate in the movement towards ending poverty, the first goal of the UN Global Goals. 
The International 17 October Committee in discussions with the United Nations in New York has chosen as the global theme for this year's UN End Poverty day "Building Forward Together: Ending Persistent Poverty, Respecting all People and our Planet".