TrustLaw Index of Pro Bono - 22 Apr
You are invited to the TrustLaw Index of Pro Bono Event- The experience in Europe and the Americas
Join Thomson Reuters Foundation on Thursday, 22 April 2021 for an online event where the Foundation will be sharing the findings of the 2020 TrustLaw Index of Pro Bono and discussing the need for pro bono in times of crisis. 
Time:  4.00pm BST // 5.00pm CEST – you can register here.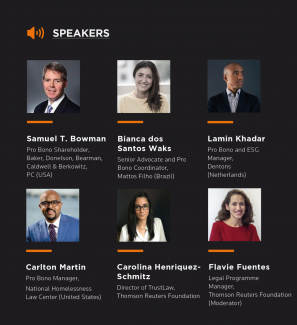 The 2020 Index collected data from over 215 firms representing lawyers in 91 jurisdictions who contributed 3.9 million hours of their time towards pro bono. The launch event will feature an interactive discussion on the role pro bono has played during the COVID-19 pandemic as well as other crises that have arisen at the same time or in the past with the amazing speakers listed below. The discussion will explore lessons for building resilient and agile pro bono practices, even in times of crisis, with leading pro bono practitioners in Europe and the Americas.