Trocaire Photo Exhibition Launch
The Face of Resistance Photo Exhibition.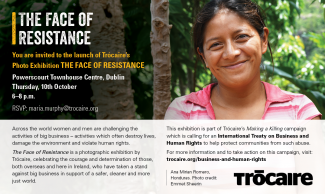 You are invited to the launch of Trócaire's The Face of Resistance Photo Exhibition.
Powerscourt Townhouse Centre, Dublin
Thursday 10th October, 6-8pm
RSVP: maria.murphy@trocaire.org
Across the world women and men are challenging the activities of big business – activities which often destroy lives, damage the environment and violate human rights.
The Face of Resistance is a photographic exhibition by Trócaire, celebrating the courage and determination of those, both overseas and here in Ireland, who have taken a stand against big business in support of a safer, cleaner and more just world. 
This exhibition is part of Trócaire's Making a Killing campaign which is calling for an international Treaty on Business and Human Rights to help protect communities from such abuse. 
Visit trocaire.org/business-and-human-rights for more info and to take action on this campaign.