Sustainability webinar for community groups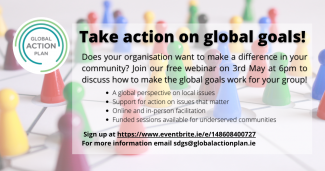 Does your community group want to work more sustainably? 
Global Action Plan helps community organisations enhance their offerings with more sustainable thinking. Our upcoming free online webinar will introduce the Sustainable Development Goals, the United Nations roadmap to a fairer, cleaner future.
In the session, we will learn about the SDGs, connect them to the work you already do, and explore ways that your group can be more effective in bringing about local change that responds to global challenges. Join us on the 3rd of May by signing up here.
For more information, please email sdgs@globalactionplan.ie.