Smashing Times International Women's Day Celebration - Dublin, 8 Mar
Smashing Times At Home in Dublin Castle, International Women's Day, 8 March 1pm and 4pm  – Invitation to a Literary Salon of Ideas and Imagination
Smashing Times, in partnership with the Pop-Up Women in Politics and Public Life Exhibition Dublin Castle, and with the support of Dublin City Council, are delighted to invite you to join us for an 'At Home' with a difference as Constance de Markievicz and her friends are brought to life, using events that happened in and around the Dublin Castle complex. This 'female take over' in the impressive State Apartments of Dublin Castle is timely as we celebrate International Women's Day.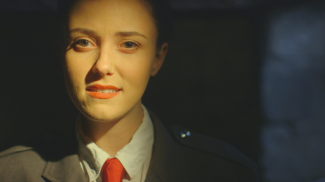 Róisín McAtamney in Constance and Her Friends by Mary Moynihan, Dublin Castle, International Women's Day, 8 March 2020, 1pm and 4pm
Climb the grand staircase and join Constance de Markievicz; we meet her in 1891 as she attends an 'At Home' with her cousin the Vicereine, the Countess of Zetland. Take a promenade with the other characters, as this walk-about performance takes you through the James Connolly room, the State Drawing Room, the Throne Room, the Portrait Gallery and the circular room (better known as the Gothic Room). Enjoy storytelling, poetry and song as you meet Constance and her friends and explore stories of women we celebrated during this the Decade of Centenaries.
The event is a colourful gathering to mark 8 March, International Women's Day as artists from Smashing Times work with artistic Director Mary Moynihan and Historian Dr Sinéad McCoole. '100 Years of Women in Politics and Public Life 1920-2020' is also on display in Dublin Castle's Coach House Gallery until 4 May 2020. Don't miss your chance to see it before its run ends.
All are welcome to come and enjoy performances with artists Margaret Toomey, Róisín McAtamney, Carla Ryan, and Geraldine McAlinden. We look forward to your company and welcome questions and discussions on the day.
Where:                Dublin Castle State Apartments, Upper Courtyard
When:                  Sunday, 8 March, 1pm and 4pm
Bookings:            Via Eventbrite here
The show is promenade (walk-about) style moving from room to room. All areas in the State Apartments are universally accessible, including the cafe and restrooms.
The work includes new writing by Dr Sinéad McCoole and selections from Constance and Her Friends, by Mary Moynihan, as Constance Markievicz, Nora Connolly O'Brien, Helena Molony, Grace Gifford, Hanna Sheehy Skeffington, and Lily Mernin reflect on memories of the 1916 Rising, the Irish War of Independence and Civil War, their time in prison, and the suffrage movement. Enjoy Grace Evelyn Gifford telling the story of her time with Joseph Mary Plunkett, one of the leaders executed after the 1916 Easter Rising and the youngest signatory to the Irish proclamation.
Come along to enjoy this exciting performance celebrating the lives of women in Irish history from 1916 to 1923, and women's voices today.
For more information see www.smashingtimes.ie