Shared Island: Shared Opportunity, 7 Oct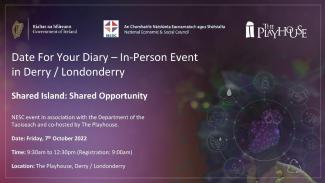 You are invited to attend an in-person event to discuss the findings of the report  'Shared Island: Shared Opportunity' taking place on Friday, 7 October from 09:30 – 12:40 in the The Playhouse, Derry.
The event will feature a number of interactive panel discussions on the Council's recommendations on deepening cooperation on the island across economic, climate and biodiversity, social policy and well-being concerns.
A full programme of the event is available here.
This event will be of interest to policy makers, business, environmental, community and voluntary organisations, practitioners, local authorities, academics and interested individuals across the island.
As part of the Government's Shared Island Initiative, the Department of the Taoiseach requested the National Economic and Social Council (NESC) to undertake research and to produce a comprehensive report on the Shared Island, to inform the development of the Shared Island initiative as a whole of Government priority. Extensive consultation and research informed this report.
The Council's Shared Island: Shared Opportunity report launched on 12 April is a culmination of work over 2021 / 2022, where NESC published two Council Reports, six Secretariat Papers and one Background Paper on the Shared Island.