Re-imagining the Irish Welfare State Post-Pandemic, 12 May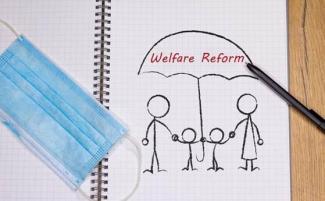 Date/Venue: Thursday, 12 May in the Dublin City Council Wood Quay Venue, Fishamble Street, Dublin 8
Time: 9am to 1pm.
Please register here on Eventbrite
The event will feature a panel of experts to discuss: 'How the welfare system post -pandemic can better support the most vulnerable populations.' The workshop will bring together frontline services providers and charity executives working with domestic abuse victims, undocumented migrants, single parents in low-income households, individuals with disabilities and their carers, individuals facing addiction issues, former prisoners and their families, and the homeless.
This event is funded by the Cork Street Fund and supports two ongoing TASC projects: How social policy can better support victims of domestic abuse, funded by Safe Ireland, and an evaluation of a pilot social prescribing programme in Northeast Inner City Community Coop funded by the HSE, NEIC, and Healthy Ireland and in partnership with Dublin City Community Coop.
The aim of the workshop will be to generate discussion and produce a follow-up policy brief focused on the limitations and benefits of the current welfare system and needed reform to meet current and future challenge. There will be two breakout sessions coinciding with one another.
The breakout sessions will focus on the impact of COVID-19 on vulnerable households and ask how current benefits support and restrict improvement in quality of life and life chances and the policy reforms and changes that need to be made to improve the economic, legal, and social position of the most vulnerable populations in Irish society.
Panel speakers to date include:
Joe Saunders, TASC & Irish Local Development Network (ILDN)
Mary McDermott, CEO Safe Ireland
Dr Róisín Farragher, NUI Galway - Young people and the Irish care system
Roshin Sen, Department of Social Protection.
Please register here on Eventbrite
For further information on the event please contact Emily Murphy on emurphy@tasc.ie