Public Interest Law Alliance to Constitute Ukraine Legal Panel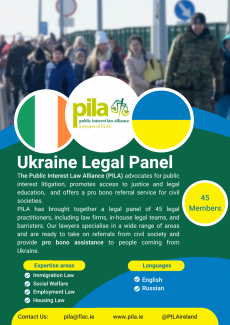 In the aftermath of the Ukrainian crisis, a large number of Ukrainian people took refuge in Ireland. Here, they now encounter a wide range of difficulties pertaining to their immigration status, access to stable housing and education, employment and social welfare benefits, family reunification and many others.
In response, the Public Interest Law Alliance (PILA) has organised a legal panel composed of individual solicitors, barristers, in-house legal teams and large Irish law firms, that are ready to take on referrals on a pro bono basis.
If you are a civil society or NGO working with people from Ukraine who need legal assistance, advice or representation, or if you are setting up a service for Ukrainian people and are in need of legal advice, email pila@flac.ie or Shamika Dwarika to make a referral.