Office Accommodation at Carmichael at the Right Price
Carmichael is a leading specialist training and support body for nonprofits in Ireland. Today we want to tell prospective organisations that we are here for you and can offer office accommodation at affordable prices. Carmichael offer work space for your organisation fitted for the modern world. Whether you run a 9-5 place or something for monthly meetings, Carmichael can design a package to suit your needs.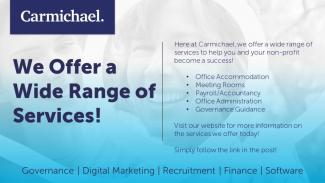 Our aim at Carmichael is to assist nonprofits of all sizes and with our office and meeting room accommodation available, we strive to make your organisation go from strength to strength. Flexibility is at the core of our offer here; if interested email Mary@carmichaelireland.ie.