Medicine & Health - Public Webinar, 24 Nov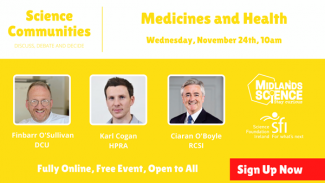 The fourth and final Science Communities event is on this Wednesday, 24 November at 10am, where we will be discussing the topics of Medicine, Health and Positive Psychology.
Dr. Finbarr O'Sullivan (DCU) will be talking about how new and existing drugs are investigated. Karl Cogan, from the HPRA will briefly outline the remit and regulatory functions of the HPRA, and Prof. Ciaran O'Boyle (RCSI) will look at some of the key scientific principles of positive psychology.
This fully online, free event is open to everyone – Book Your Place Here Now!