International Women's Day AkiDwA Conference, 8 Mar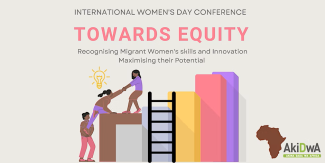 Please join AkiDwA at a special event to mark International Women's Day, which will be held on 8 March 2023, at LinkedIn, Wilton Terrace, Dublin 2, from 10am to 1:30 pm. The title of the conference is Towards Equity: Recognising Migrant Women's skills, Innovation and Maximising their Potential.   
ESRI research shows migrant women are highly educated and qualified, however majority are working in jobs that does not match their qualifications. Meanwhile, others are unable to access employment at all and experience exploitation and discrimination working in the informal economy. They are facing many barriers that are preventing them from reaching their full potential.  
Discussions will focus on various subjects which include, innovation, access to employment, civic engagement and political representation while articulating on how to achieve equity for migrant women on these areas.  
This is a free event that is open for all. Feel free to bring along a friend or two. It is our pleasure to having you on the day.
Date and time: Wed, 8 March 2023, 10:00 – 13:30 GMT
Location: 1 Wilton Park, LinkedIn, Dublin 2, D02 FX04