Guide SYSTEMS CHANGE action with Earth Charter Vision and Values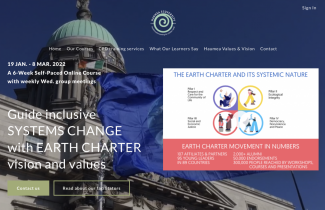 Ready to communicate guiding holistic ecosocial Values for SYSTEMS CHANGE action?
Our Haumea Ecoversity online holistic values education course with the Earth Charter  – is highly relevant for increasing engagement with the UN Sustainable Development Goals, whether you are a community facilitator, teacher, artist, art director, cultural policy-writer.
FOR ALL ADULTS  interested in inclusively and creatively communicating integrated ecosocial values for their work, community project, policy, programmes, marketing, media journalism, business, school, university in these urgent times.⁠
⁠
A comprehensive, supportive and inspiring online course, led by an accredited Earth Charter Educator and ecological art educator, Dr Cathy Fitzgerald (Ireland) and co-hosted by philosopher-educator Dr Nikos Patedakis (California).⁠
⁠
The Earth Charter is an ethical framework for universal values built on the Declaration of Human Rights and the IUCN (International Union for the Conversation of Nature). It is also the UNESCO-endorsed learning framework for systems literacy to guide all citizens actions for the UN Sustainable Development Goals. It has a central role in ESD - Education for Sustainable Development and there is also the Little Earth Charter, applicable for younger learners. ⁠
In 2019, UNESCO endorsed the Earth Charter as the SYSTEMS learning framework so citizens everywhere can simply understand and communicate integrated universal environmental AND social values for everything we do.
In 2022, on the 30th Anniversary of the first UN Earth Summit in Rio in '92, all countries will be ranked for their ecosocial efforts by the new Earth Charter Index, and the Earth Charter School Seal Initiative to advance systems literacy values in education worldwide will also be launched.
⁠
🔗Read more and book - see here
⁠
⏰Bookings close 18 JAN. 2022
Course orientation starts 19 JAN., 2022⁠
with weekly Zoom group meetings ⁠
on Wednesdays 7 pm Irish / UK time⁠
⁠
As we prioritise transformational learning for each learner, PLACES ARE LIMITED to 20 participants in each course. ⁠
Subsidised places are available for low waged and underemployed