The Global Fund New Strategy Development - Open Consultation
Irish Aid is part of the Point Seven Delegation that sits on the Board of the Global Fund. With support from the Irish Global Health Network, Irish Aid are soliciting feedback from the global health community in Ireland to contribute to the development of the Global Fund's new strategy. 
Ireland has been a key supporter of the Global Fund since the beginning, contributing a total of €241.05 million to date. The State has pledged €50 million for 2020-2022 – a 67% increase from its previous pledge and the largest single investment for Ireland in global health and HIV.  
Date: 13 October 
Time: 12:00 pm to 14:00 pm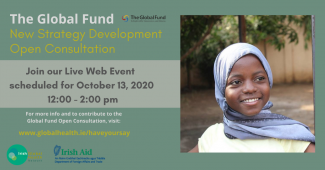 The investment is a firm sign of our commitment to alleviate the burden of the three diseases: HIV, TB and Malaria and build strong and resilient health systems. Join us to input directly into the Global Fund's New Strategy Development. All comments will be taken into consideration and key points represented by Irish Aid in strategy discussions at Board level. 
Global Fund Event Speakers
Dianne Stewart, Head of the Global Fund's Donor Relations Department will speak about the global landscape of the three diseases and set the overall scene
Jessica Kraus, Global Fund Strategy, Impact, and Investment Division will then speak about the strategy development process
Irish Aid Event Speakers
Emma Warwick, Development Specialist, Irish Aid, Department of Foreign Affairs and Trade, Ireland
Fergal Horgan, Global Health and Nutrition Advisor – Permanent Mission of Ireland to the United Nations, Geneva
There are two ways to have your say: 
1. Provide written feedback here : Deadline - October 16
2. Join an online meeting of all interested stakeholders: 13 October, from 12 – 2pm.