#FreeTheFlow and Intro to Video Journalism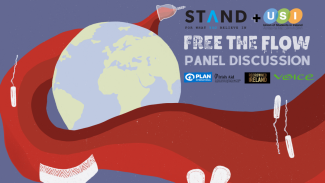 Event: #FreeTheFlow Panel Discussion
When: Online: 9 December, 1 - 2 PM 
Promoting menstrual equity to confront the challenging reality of period poverty is key to supporting women and people with periods. Like so many global issues, period poverty impacts all pillars of sustainability - economic, environmental, social, & cultural.
In order to work toward a fairer and more equal world for all, we need to understand period poverty from each of these angles and their intersections.
During this panel event, you'll get to hear from experts and insiders from Ireland and around the world who will share their insights about the nature of period poverty and what we can do to support those dealing with it.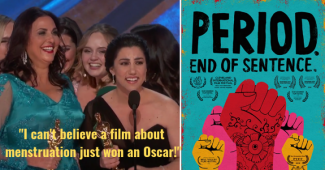 Event: Period. End of Sentence. Film Screening + Discussion with PLAN
When: Online: 10 December, 7 PM 
Join us for this screening of Period. End of Sentence and a discussion to follow.
The Academy Award-winning Netflix Documentary Short, Period. End of Sentence., aims to inspire people everywhere to think globally and recognize the impact young people can have. The film screened across the U.S. at film festivals in 2018 and premiered on Netflix in February 2019. It follows the women of Kathikhera, a village outside of New Delhi, India, as they install a machine and sell their pads throughout their district.
Following the short film, we'll have a discussion, facilitated by our partners at PLAN, and talk about the impacts of period stigma and how young people can collectively work against it.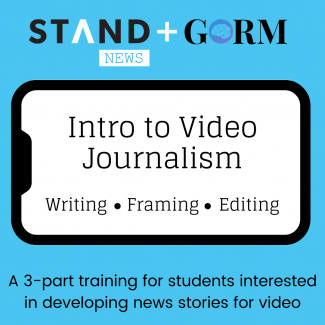 Event: Intro to Video Journalism with GORM Media
When: 
6 December, 5 - 6:30 PM

10 January, 5 - 6:30 PM

7 February (TBC), 5 - 6:30 PM 
This 3-part training facilitated by Gorm Media's founder, Mamobo Ogoro, will guide you in transforming written journalistic news and opinion pieces into dynamic and engaging video content. In order to get the most out of this training we highly recommend that participants attend all 3 training sessions.
All levels of writers, journalists, and social justice-minded activists are encouraged to join! Participants will receive guidance on creative and technical aspects of developing scripts, insights into shooting and editing decisions, and support for considering design elements. As a participant, you'll have the opportunity to join the STAND News Team and to showcase your work on the STAND News website! Join the waiting list now!