Free Diversity Trainings for HR Professionals - 21 Oct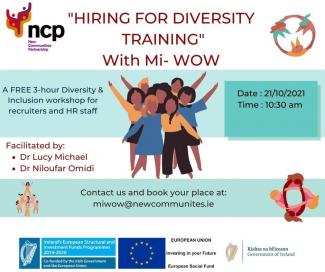 Migrant Women-Opportunities for Work are currently enrolling participants for the, 'Diversity Training for HR' programme, this training is directed towards recruiters,HR staff and/or people involved in the hiring processes of companies and organisations, so that together we can build bridges to overcome the barriers that migrant women (and migrant descendant women) face in accessing the Irish labour market.
"Hiring for Diversity Training", is designed  with the aim of raising awareness around diversity, inclusion, and multiculturalism and the importance of including these values into recruitment processes. In NCP and Mi-WOW, we believe that the first step towards achieving inclusive and diverse work  environments is to have inclusive and unbiased recruitment processes, where everyone is given equal opportunities; despite their gender, ethnicity, name, accent, or foreign experience/qualifications.
As a migrant organisation led by and for migrants, we have extensive experience of the challenges that migrant people in general, and migrant women in particular, face when trying to relaunch their careers in the country and enter the Irish workforce. We are working hard to help them overcome these challenges and we would like for you to join us in this journey too!
The "Hiring for Diversity Training" is a three-hour training delivered via Zoom and is completely FREE.
The second training is scheduled for 21 October at 10.30am
Facilitators: 
Get in touch with us today! Limited spaces available.