An Cosán Community Partner Webinar 'Leaving No One Behind'! | Date 20th October 2021 | 11:00-12:30pm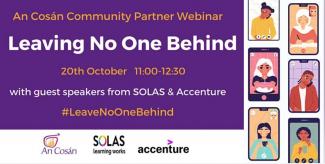 An Cosán is committed to empowering learners and communities across Ireland through education and part of this ambition includes bridging the Digital Divide.
We know one in two adults in Ireland have low digital skills.
We've been working together with our corporate, community and state partners to help address Ireland's Digital Divide and the social exclusion issues caused by a lack of basic digital skills in Ireland.
Now we invite you to join us, so that together we can work towards an Ireland where every adult has the necessary skills to fully engage in society and realise their potential.
What will this online event offer you?
You will hear research-based insights directly from our guest speakers from SOLAS and Accenture around some of the key challenges facing Ireland in the coming years.
You will hear about how the new whole-of-society SOLAS 10-year 'Adult Literacy for Life' strategy aims to equip all adults with the literacy skills they need and is a key step in achieving Ireland's goal of a fully inclusive and equitable society and economy.
You will also hear insights from Accenture's 'Bridging the Gap – Ireland's Digital Divide' and their 'Talent for Tomorrow' reports which found that Irish citizens are underestimating the skills transformation that is underway and there is a gap in Ireland's skilling and training where it is needed most.
Let's work together to #LeaveNoOneBehind!
Our speakers include:
Heydi Foster, Chief Executive Officer, An Cosán
Heydi is the CEO of An Cosán, Ireland's largest community-based organisation.  She has extensive senior leadership experience in education, human rights, community development and delivery of social services in marginalised and vulnerable communities. She is a Commissioner with the Irish Human Rights and Equality Commission and a former CEO of the international development agency, Misean Cara, and of Exchange House Ireland National Travellers Service. Originally from Guatemala, Heydi co-founded a school in inner city Boston to address educational disadvantage among refugees and Latino and African American children. She was also CEO of Women United in Action, a non-profit which supports immigrant women and children in the USA. 
Mark Kelly, Digital Inclusion Coordinator, An Cosán
Mark oversees the roll out of our Digital Stepping Stones assessment tool and Accenture's Skills to Succeed Academy across Ireland. Mark is an advocate for digital inclusion and tackling the digital divide in the community sector. Mark holds an MA in Learning and Teaching as well as qualifications in Learning and Development, Transformative Community Education, Digital Marketing and Public Relations. 
Ariana Ball, Responsible Business and Citizenship Team, Accenture
Ariana has worked with Accenture for almost 5 years, first joining the organisation's consulting practice before making the move to join its Responsible Business and Citizenship Team. Prior to that she worked for 8 years in the NGO sector. Ariana currently leads Accenture Ireland's Social Impact agenda. She works across a wide network of stakeholders and partners seeking to empower people to embrace the shifting workforce landscape and to thrive in the digital economy. She is passionate about learning and education and, in particular, the positive learning outcomes that can be derived from a growth mindset. 
Roisin Doherty, Director of Further Education and Training Learner Support, SOLAS
Roisin held responsibility for managing the process of developing a cross-Government 10 Year 'Adult Literacy For Life (ALL) Strategy for Ireland'. Through various oversight structures Roisin is currently working with multiple partners to oversee the project management of the implementation phase of this new strategy. An early output of the strategy is the current roll out of a dedicated ALL website and a national 'Adult Literacy For Life' awareness campaign. Roisin with partners will shortly roll out: best practice guidelines for; Adult Numeracy, English for Speakers of other Languages, initial assessments at NFQ level 4 -6 and Supporting persons with intellectual disabilities in Adult Literacy Services.