Calling all Community Groups & Sports Clubs!
If you want to get new fundraising ideas and hear about grants that are available to you from Wexford County Council and Wexford Local Development, then book your place at the Clann Credo Information and Networking Event. The event will take place at the Ferrycarrig Hotel on Tuesday, 12 November from 6:30pm to 8:30 pm.
Jennifer Hennessy, Regional Manager with Clann Credo who is organising the event stated "Our aim is to give community groups and sports clubs all the information they need on grants that are available locally, how to run effective fundraising campaigns and how to get loan finance if they need it."
Clann Credo are delighted to have Liz Roche, a leading fundraising advisor to the community and non-profit sector in Ireland. Liz will share her experiences of what works best in fundraising campaigns. Amanda Byrne from Wexford County Council's Community Section and Mary Dunphy from Wexford Local Development will give you all the information you need to know about grants that are available.
Tony Marshall from Clann Credo will provide information on the types of loans available to community groups. Many grant funds require 'match funding' from community groups – so loan finance and fundraising are essential for bringing your community project to life. Clann Credo has over 20 years of experience working with community groups throughout Ireland and have invested over €120 million in community projects. Because Clann Credo is a non-profit charity, they understand community groups, the volunteers that work so hard to improve life in their communities and the difficulties they can face in obtaining finance.
The event will include a case study presented by a local group who have availed of Clann Credo finance in order to realise their community ambition.
There will be presentations, round table discussions and plenty of opportunities to network and ask questions. Complimentary tea, coffee and sandwiches will be provided, and the event is free to attend.
Places are limited so book early to avoid disappointment! You can book your place here www.bit.ly/WexfordEvent or ring Clann Credo on 01 400 2100.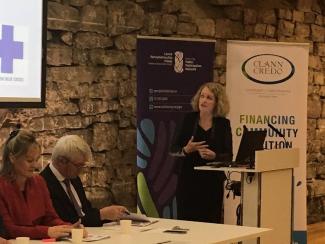 Liz Roche presenting at a Clann Credo Information & Networking Event in Dublin