The 2into3 Not-For-Profit Recruitment Monitor Survey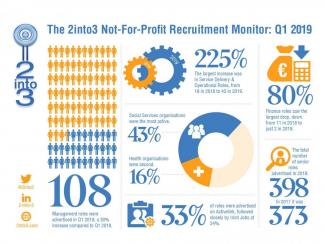 The 2into3 Recruitment Monitor is a quarterly publication from one of Ireland's leading not-for-profit consultants. It provides those working in the sector with both a snapshot of current senior recruitment activity as well as a view on trends in this area.
Our work to date has focused on the senior roles we have identified in a wide variety of different advertising platforms, which is a strong barometer of activity. However, we have been wondering of late how those who receive this report who may not be advertising roles regularly are faring with the current challenging market.
We have therefore developed this short questionnaire to hopefully provide insight into the area from a peer-to-peer perspective. We would very much appreciate if you were able to give just a few minutes to answer the questions and contribute to a wider knowledge base for your fellow not-for-profit managers.
The survey is completely anonymous, and all the questions are optional, although we would be grateful if you could answer each one. If you are happy to share your contact details, we will enter them into a draw after the survey closes for a €50 One4All voucher, as a token of our appreciation. All findings will be aggregated and anonymised, so no individuals or organisations will be identified in the results.
You can find a link to the survey here.
We will share the results of the survey with you when we publish the Q2 edition of our Recruitment Monitor in early July.
Thank you in advance for your time and valuable input.