Clann Credo's €10M Community Climate Action Loan Fund to Boost Climate Action Projects
Many communities around Ireland are working to reduce Ireland's carbon footprint as well as saving money by implementing cost-effective energy-saving measures.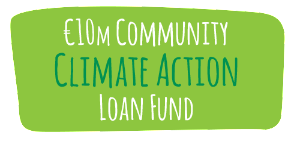 Clann Credo has a designated Community Climate Action Loan Fund of €10 million for local projects that support people taking climate action.
The type of environmental projects Clann Credo supports include investment in: renewable energy projects; SEAI Better Energy Community projects; retro-fitting existing community buildings and facilities. We also finance communities committed to low carbon living.
Over the years, Clann Credo disbursed over €8.5 Million in Community Loan Finance to projects involved in climate action.  These loans have helped communities save energy and money in: schools; sports clubs; community centres; churches; sheltered housing and even an eco-village.
Projects that we already support include: Tipperary Energy Agency; Upperchurch Energy; Ballyfermot Family Resource centre, Dublin; Clár ICH, Mayo; Galway Traveller Movement; Drombane Energy Team; Birdhill Tidy Towns; Kilcommon Energy Team; Lorrah/Rathcabin Energy Team and Cloughjordan Eco Village.
Clann Credo has been working with the Sustainable Authority of Ireland (SEAI) and other agency authorities.  We help community groups to maximise the benefits of SEAI Better Energy Community Grants.
As well as providing community loan finance for community climate action projects, Clann Credo also provides expert knowledge of working the community and voluntary sector.
To find out more about Clann Clann Credo's Climate Action Loan Fund click here
To watch a video about how Clann Credo is helping Climate Action communities click here