Taoiseach praises The Wheel for representing "all that is good about Civic Republicanism"
An Taoiseach Leo Varadkar TD, has praised The Wheel for representing "all that is good about Civic Republicanism" in  speech delivered at our annual Summit in Croke Park on Thursday, 23 May. 
The day-long event was attended by over 400 delegates from across Ireland. In his address An Taoiseach said the work of The Wheel "reminds us of how active citizenship can change our country for the better". He added that The Wheel "exemplifies all that is good about our Republic, and the ideals that were expressed in the 1916 Proclamation".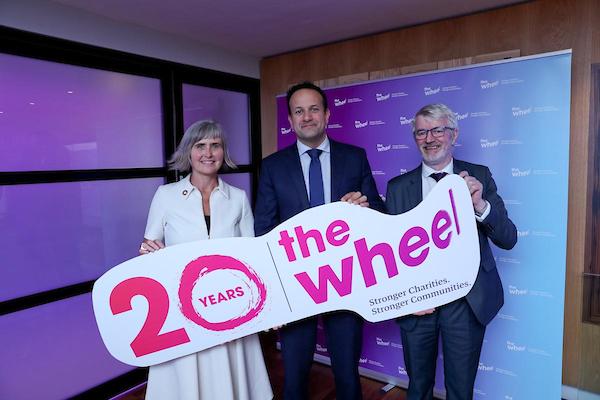 Here is the full transcript of An Taoiseach's speech. 
Ladies and gentlemen, it is a pleasure to be here today.  My thanks to John, Paul and Deirdre for the invitation.


Anniversaries ask us to remember the past, as well as to think about the future. 

1999 was a significant year for our community and voluntary sector.  Like-minded people from all around the country met with a vision of how to channel their collective energy for the greater good.  We all know the results. 

With The Wheel you established yourselves as a one-stop-shop for anything to do with the charity and non-profit sector.  More importantly, The Wheel was itself a bold statement about the value we place as society on volunteering, on community, on helping others.  It epitomises the importance of being active citizens in our daily lives. 

The elections tomorrow remind me of what I was doing 20 years ago – running in my first campaign.  I lost badly.  I secured 380 first preferences and was eliminated on the fifth count.  But sometimes you learn more from your defeats than your victories.  I learned how to hone a message, run a professional campaign and to never give up.

For me, active citizenship was about getting involved in local politics and trying to make a difference.  Five years later, I ran again and headed the poll and secured the highest first preference in the country.  I'm glad I ran in 1999 because I learned a lot from the experience.  And I'm still motivated today by belief in public service and the same desire to make things better. A belief that change is possible and the arc of tilting moves towards progress and greater things.

Another anniversary has also been on my mind recently.  In April we marked the 70th anniversary of the Republic coming into effect, and it made me think about what republicanism means in our country today.  

For too long the word has been associated with negative connotations.  'Republican violence', 'republican outrage', 'The Irish Republican Army'.  Anti-Britishness, Socialism here and a particular political party in the United States.

We have to reclaim it.

Going back to the time of Wolfe Tone, republicanism was less of a political theory and more of a desire to break the connection with Britain.

Today, as an independent country playing our part on the world stage we have to reflect on what it means to live in a true Republic, what being a citizen really means.  It's a conversation that I think is needed in our country.  One I would like to see advanced, including by you in The Wheel, in the months ahead.

The work of The Wheel reminds us of how active citizenship can change our country for the better.  As such, it exemplifies all that is good about our Republic, and the ideals that were expressed in the 1916 Proclamation.

 Mission-focussed organisations, such as The Wheel, have the potential to be transformative for Irish society.  They regularly provide services which are not directly provided by public bodies or commercial enterprises. 

 Although our economic situation has much improved since the crash, there are communities and families who still need help.

 So the Government has invested €190m in a new five year Social Inclusion and Community Activation Programme to help those most marginalised in society.

 This year we are providing funding to 400 community organisations through the Community Services Programme because we want to improve opportunities for community organisations.  And we want to empower them to provide local employment, facilities and services to their local communities.

 The Government is also determined to help build a sustainable model of philanthropy in Ireland.

Philanthropy in Ireland does not have a great history, but it is a form of patriotism and should be recognised as such.  Today we have more models of philanthropy available, more information on the various causes and charities in need of assistance, and more transparency around the impact of the work being done than ever before.

 Through our Local Community Development Committees we want to develop, coordinate and implement a coherent and integrated approach to local and community development.  The ongoing review of these Committees will further strengthen local and community development.

 As a Government we provided over €300 thousand funding to local authorities to run events for the Big Hello earlier this month as part of the inaugural National Community Weekend. 

Over 800 events were held throughout the country.  The ideas for these events came from the communities themselves.  For me, it was further proof that the spirit of helping others and sharing community values flourishes in our country.

The Big Hello highlights the values of communities, and it also celebrates the role of volunteers within those communities.  A vital part of our national identity is volunteering, and we need to appreciate the massive contribution it brings to Irish society.

Our sports clubs, community centres, and all the other connections that keep our communities alive and vibrant depend on thousands of volunteers every week.

Volunteering is at the centre of our plans to build a society in which nobody feels left out.
The contribution of charities to our history is well known, and I believe they have an important future.

There are now over 10,000 registered charities in Ireland.

And our work establishing and developing the Charities Regulator will help provide the legislative framework to provide transparency and restore the sense of integrity and confidence in the sector.

Modern Republicanism also means thinking about our role as global citizens.

One of the most rewarding experiences I had in my life was when I spent some time as a VSO Ireland volunteer in Mongolia in 2008.  It was hard-work, it was exhausting, and it opened my eyes to how small actions can have profound consequences for those we help.

My visit to Ireland AID projects in Ethiopia and to our Defence Forces whilst in Mali earlier this year really changed my perspective on the world.

There is so much more we can do to promote democracy and freedom and bring about security and economic opportunity in the world.

This year, our Oversees Development Assistance budget will exceed €800 million.  By 2030 we will be investing 0.7% of our Gross National Income in International Development.

Just this week, Cabinet renewed our peacekeeping mission in South Lebanon.

So, we are facing up to our responsibilities as global citizens.   We are being republicans on the world stage.

The Wheel represents all that is good about Civic Republicanism today.

 Twenty years on your work is helping to build a thriving community and voluntary sector in Ireland.  One that has fairness, opportunity and justice at its heart. 

Republicanism is no longer defined by our relationship with Britain.  For me modern Civic Republicanism, it's about our relationship with Europe and the wider world.  It's about a spirit of public service and a sense of community.  It's epitomised by a desire to help others, through volunteering, community action and social enterprise. 
Topics