EU Policy Made Easy: Our EU Engage Video Series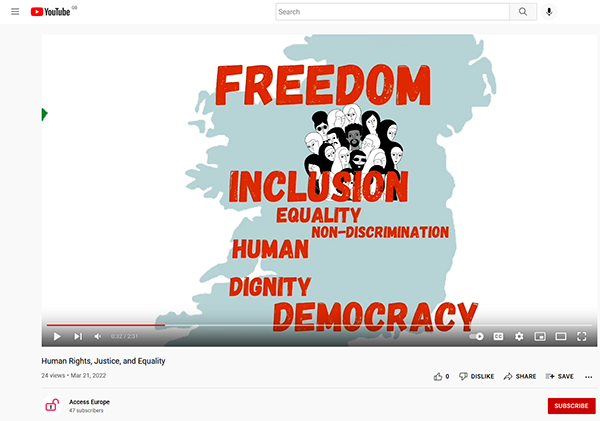 Are you interested in starting your EU funding journey or scaling up your existing experience? There's no time like now!
The EU's long-term budget for 2021 – 2027 was released last year, offering a wide variety of new funding programmes relevant to Irish civil society. Various EU policies underpin the creation and development of these programmes. It is vital to make a connection and demonstrate a link between these policies and your project when writing an EU funding application – but how can you do this? 
EU Policy Explainer Videos 
With our EU Engage project, we created ten short, helpful explainer videos that demystify EU policy and allow you to reference it clearly in your project application. Take a look for handy breakdowns on policies like the EU Green Deal, Social Economy Action Plan, the Gender Equality Strategy and many more! 
You can read more about the abovementioned EU policy areas on our Access Europe website here.  
Meet Your MEP Interview Series
As noted in the videos, two ways citizens and civil society organisations can connect with the EU is by engaging in EU funded projects and voting in European elections.  In our Meet Your MEP interview series, we sat down with your democratically elected representatives who are responsible for shaping European policy. In the interviews, the MEPs shared their views on the challenges and opportunities civil society organisations face and how they can effectively engage with the EU. In MEP Colm Markey's words: 
'Civil society is critical in driving the agenda of the future of Europe because all social change and policy change is driven by what the public opinion is.' 
Watch each interview here to learn about Irish civil society's role in driving a just, inclusive, green and sustainable future for Europe. 
This blog and our video series are brought to you by the project EU Engage which is funded by the European Union. The contents of these publications are the sole responsibility of The Wheel and do not necessarily reflect the opinion of the European Union.