Making Sense of 2020
As 2020 draws to a close, it is very tempting to just draw a line under the past year, indulge in some much-needed seasonal joviality, and start 2021 afresh. But before we do, I think it worth pausing for a few minutes to reflect on what we collectively achieved this year, what we have learned along the way, and how this may shape the future of our sector.
I must begin by acknowledging that 2020 has affected us all – some much more than others – particularly those who have lost loved ones. But I suspect it has left few of us unchanged.
Secondly, I want to personally thank you for the vote of confidence that you gave us through your membership of The Wheel. Over the past year, the community and network that The Wheel is comprised of has proven itself to be a strong, determined and respected voice for charities, community and voluntary organisations, and social enterprises. With 1,852 members countrywide, you and we are now stronger, and better than ever positioned to understand and promote the interests, needs and priorities of our diverse sector and the value of the work that our organisations, staff and volunteers do.
I'd like to offer you a few personal insights from the year that was.
Community is what matters

In 2020 we were starkly reminded of the significance of community.  During the first lockdown we watched, read, and listened to stories of communities coming together to make sure that nobody was left behind, and we marvelled at what could happen when care, compassion and social solidarity took priority.
This came as no surprise to those of us working and volunteering in the community and voluntary sector. That is why, at the very start of the pandemic, The Wheel and Irish Rural Link,  responded to the request and support from the Department of Rural and Community Development, launched the Covid-19 Community Outreach Programme. Part of the Community Call, it was a programme that drew on the 'invisible infrastructure' of our community and voluntary organisations and volunteers to support the most vulnerable. In three short months, the programme supported more than 134,000 people by mobilising 14,877 organisations and 36,821 volunteers.
We created the #CommunityResponseIRL hashtag to promote as many incredible stories of community action that we could and also to enable us to collate the collective impact of charities, community and voluntary organisations, and social enterprises across the country.  You can watch some of the highlights here.
I believe that the mass community mobilisation that we all saw in action this year is the key to tackling the global challenges we face, including the climate emergency. 
We are Europeans
This seems blindingly obvious, but when Brexit finally materializes, Ireland will align closer with Europe economically, politically and culturally. Our sector is not exempt from this reality.
Brexit has far-reaching economic and social consequences for all the inhabitants of this island.  In November, at the Government's first Shared Island Dialogue, I asked the Taoiseach to clarify the role of civil society in his Shared Ireland Initiative, and he acknowledged the central role our sector plays in building connections and trust between traditions on our island. You can watch his response here.
While we will be strengthening our relationship with civil society organisations across Europe, we will be continuing our long-standing collaboration with our sister organisations in Northern Ireland, England, Scotland and Wales. Early next year, we will be announcing a landmark collaboration with NICVA, our partners in Northern Ireland.
A few weeks ago, we launched Access Europe, a new support and capacity-building programme to help Irish civil society organisations make stronger connections across the EU to grow their impact by accessing EU funding. The three-year project is being funded by the Department of Foreign Affairs. With the EU budget for the next multiannual financial framework finally agreed this week, a new batch of EU programmes and funding opportunities will be released soon. Our Access Europe team will keep you informed of these opportunities as they emerge.
Collaboration is key to greater impact
In 2020, we rediscovered what we can achieve through collaboration. From the start of the pandemic families, neighbours, communities, medical professionals, the HSE and other statutory services, businesses, charities, community and voluntary groups, and social enterprises came together in solidarity to make sure that no-one was left behind.
I too have personally witnessed the power of collaboration this year and have been really pleased to be involved in several new and successful collaborations this year:  the collaboration with 13 other representative and infrastructure bodies to secure the €45 million Covid-19 Stability Fund for the Community and Voluntary Sector. And that particular grouping went on, during the Autumn, to scope out the need for a public-focused campaign to build understanding and appreciation of our sector and the work we do. And only yesterday, we heard the great news that the RTE Comic Relief Fund has granted funding for the roll-out of such a campaign in 2021 (watch this space!). We also partnered with organisations in Ireland, Scotland and Latvia to deliver the free SCOPE online training platform for civil society organisations across Europe. And, most recently, we launched Social Value Ireland a collaborative network of individuals and organisations who are interested in changing the way Irish society understands and accounts for value.
All of the above-mentioned collective action was made possible through your continued support through your membership.
There are never enough ways to say 'thank you'
2020 has been described as the year that everyone wants to forget, but which won't be forgotten. Indeed, I believe there is much to learn from our experience over the 12 months, and I look forward to working with you in the new year to build on the progress we've made this year.
Before I sign off, I'd like to thank The Wheel's amazing team for their dedication and hard work in 2020….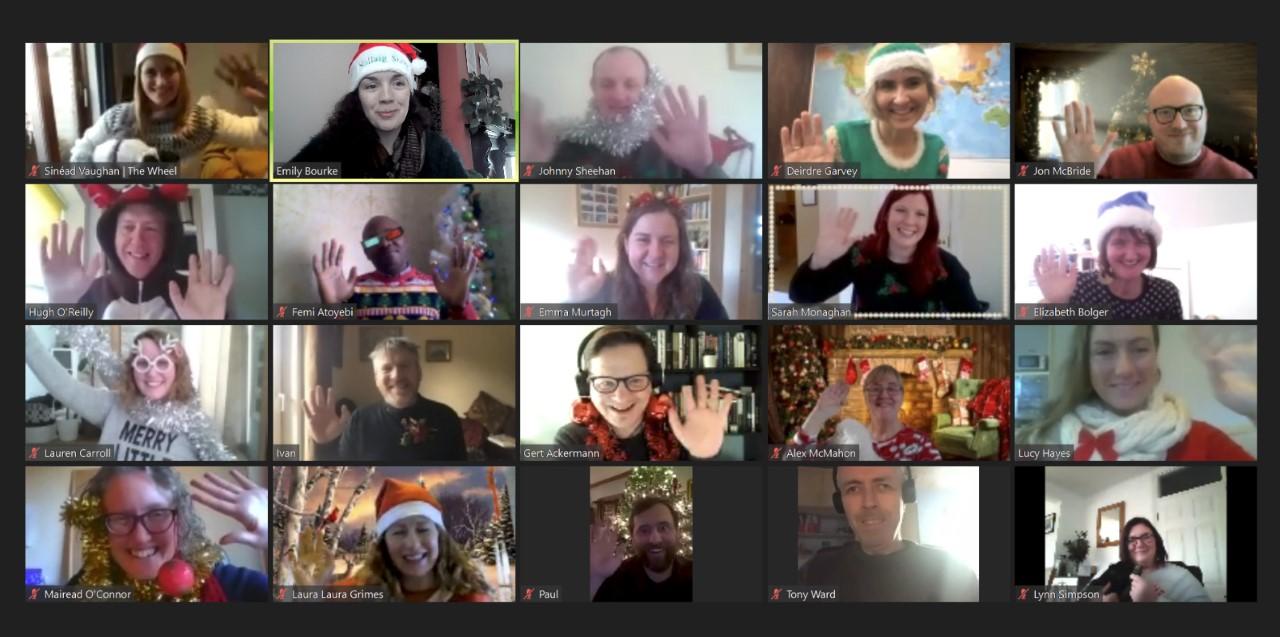 I would also invite you to accept my sincere gratitude and respect for the never-ending and vitally important work that you do and the contribution you make to people, families, communities and society – not just here in Ireland but globally and where it is most needed.
Whether it is as an employee, or a volunteer or a donor or a supporter – you are part of the amazing and precious national asset — our charities, community and voluntary groups, and social enterprises. And you are going to be badly needed in 2021 to help us all be strong enough to help Ireland and our global community bounce back: to build a future which continues to support the most vulnerable, valuing health, kindness, equality, inclusion and fairness above all else.
The crisis has shone a light on where we are needed most – and how we need to come together to believe in a better future.   As staff and volunteers, we do what we do because we believe we can make a difference. This belief is grounded in hope. Hope that the future can, and will, be better. Whatever lies ahead, let's continue to carry that hope into the world.
In 2021, The Wheel will continue to champion your work where it matters. Please feel free to lift the phone to me at any time to discuss how we can enhance our work to achieve better outcomes for the people and communities we serve.
And may I end by wishing you a peaceful, happy and safe Christmas and New Year.
With warmest wishes,
Deirdre
Deirdre Garvey
Chief Executive Officer